Practicum Summary:
Strengthening the Effectiveness of Conservation by Involving the Local Community in Sanjiangyuan National Nature Reserve
Huiling's study addresses the issues stemming from the top-down management and inadequate resources of Sanjiangyuan National Nature Reserve in China by seeking ways to involve the local community to participate in co-managing conservation and community development endeavors. The park lacks a management plan, has very limited staff, poor work equipment, inadequate levels of training, and a minuscule operational budget. It also suffers from severe degradation due to overgrazing, engineering damage, climate change, and illegal mining and poaching. In order to perform research and create a community conservation project, Huiling used funding from UNDP-GEF to create a three-way partnership between the local government, local community, and outside experts, including Future Generations China. Before starting conservation activities, Huiling conducted community participatory research in the form of household interviews, semi-structured interviews, participatory rural appraisal, and focus group discussions. From what he discovered through his research, Huiling makes the following recommendations to create a conservation program for the park: 1) build from successes, such as the community ecological patrols to prevent poaching and the use of traditional culture to educate poachers, future generations, and outsiders on the importance of preserving wild animals and the land, 2) form a three-way partnership between the local community, local government, and outside experts, 3) make decisions based on evidence rather than anecdotes, and 4) focus on behavior changes in community members to encourage the protection of the land.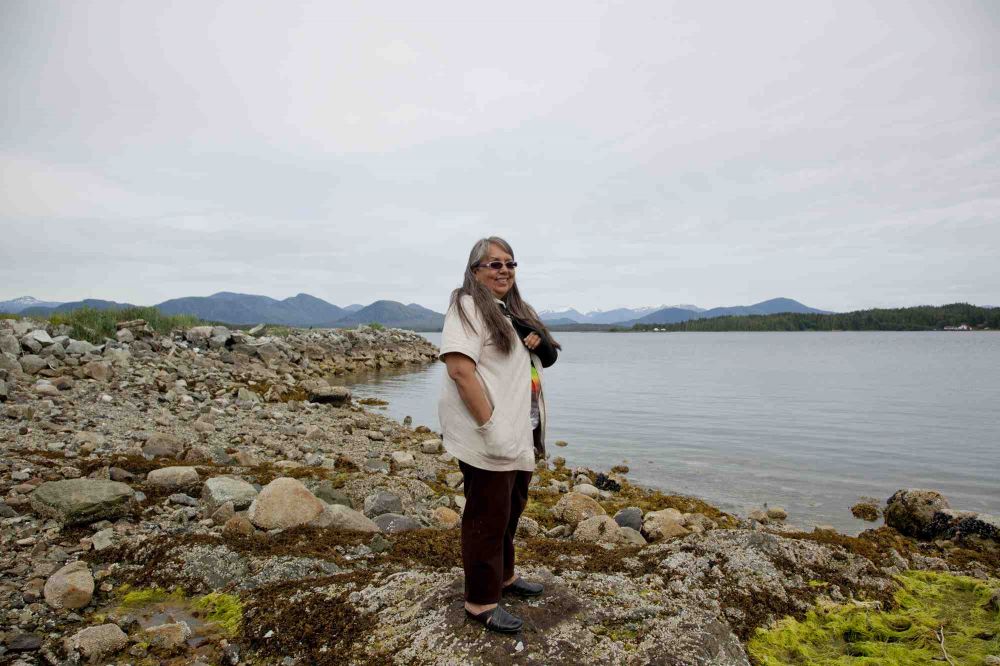 Practicum Summary:
Gvi'las: Our Way of Life
Mavis Windsor's practicum concerns the inherent relationship of the Heiltsuk Nation and the wild salmon from a conservation and social perspective. Mavis Windsor was raised on the Heiltsuk Reservation in British Columbia, and thus sought to examine how the Heiltsuk Nation should move forward together in a respectful and honorable way. In his study, he recounts the history of the Heiltsuk in the pre-contact era as a tribal group with a distinctive culture. Due to the Heiltsuk Nation's location on the central coast of British Columbia, over time the Heiltsuk people developed a traditional system of ecological knowledge that embodied the use and conservation of land resources, including the wild salmon. Windsor highlights the importance of the wild salmon as a social tool for the transfer of Heiltsuk values as well as its role as a communal food sustenance. In addition, Windsor discusses the challenges associated with cultural identity, pointing out that the Heiltsuk culture has survived despite socioeconomic problems and underrepresentation in government. In conclusion, Windsor suggests the Heiltsuk Nation retake control of their history that has been driven and written by "nonHeiltsuk" over the past 200 years.
Practicum Summary:
Academy Community Readiness for Change
In his research, Ikwo Udoh analyzes data collected among the Eguns in Makoko, located in the Lagos Mainland Local Government of Lagos State. The study employed an entry point for community readiness for change survey in order to measure the ability of members in the Egun community to act together, transformative energy among the community, the community's readiness for positive change, and the community's ability to sustain a change process. In addition, Udoh wanted to identify an entry point for beginning a change process in the community as a whole. In this study, Udoh found that illiteracy was very high in the community, and basic education and healthcare were the areas in greatest need of intervention. Using statistical data to analyze social factors, it was discovered that although transformative energy was found among the community, those living in the community were unable as to what their immediate problems were, the Egun community were at the level of vague awareness on the community readiness continuum, and the community required a change process focused on building community capacity to motivate leadership and prepare the community for action. Ultimately, Udoh determines that beginning a process of change in unstable conditions would not be a waste of time or resources, for the transformative energy and faith need to move the community from one level to the next will translate into the community's overall empowerment.
Practicum Summary:
Ja Thungay: Let's Drink Tea
Tangzon's practicum examines the relationship between alcohol and poverty in one of Bhutan's poorest rural indigenous communities, the Lhops, located in the south-western region of the country. For years, the Tarayana Foundation, founded by Her Majesty the Queen of Bhutan, has focused on improving the Lhop community's living standards through skills training programs, educational scholarships for children, and providing maintenance fees so that the poor may fend for themselves. In Yangzom's research, he discovered that while economic opportunities were accessible to the Lhops community, many of them were still heavily dependent on alcohol, especially men. He cites many contributing factors to this dependence, including the lack of access to a road, which inhibits opportunities for community members to buy, sell, and trade. Yangzom also analyzes whether women could be used as a force to bring about social change in the community in a bottom-up approach to prevent and mitigate alcohol-related problems by using information, education, and communication in hopes that individuals will change their behavior. Yangzom recommends focusing on changing socio-cultural norms about gender and drinking while remaining sensitive to the Lhop culture. He also cites the importance of carrying out this approach in a sensitive and serious way, in which the community is involved in every step of improvement, due to the fact that the community has already been patronized by surrounding communities for their problems with alcohol and productivity.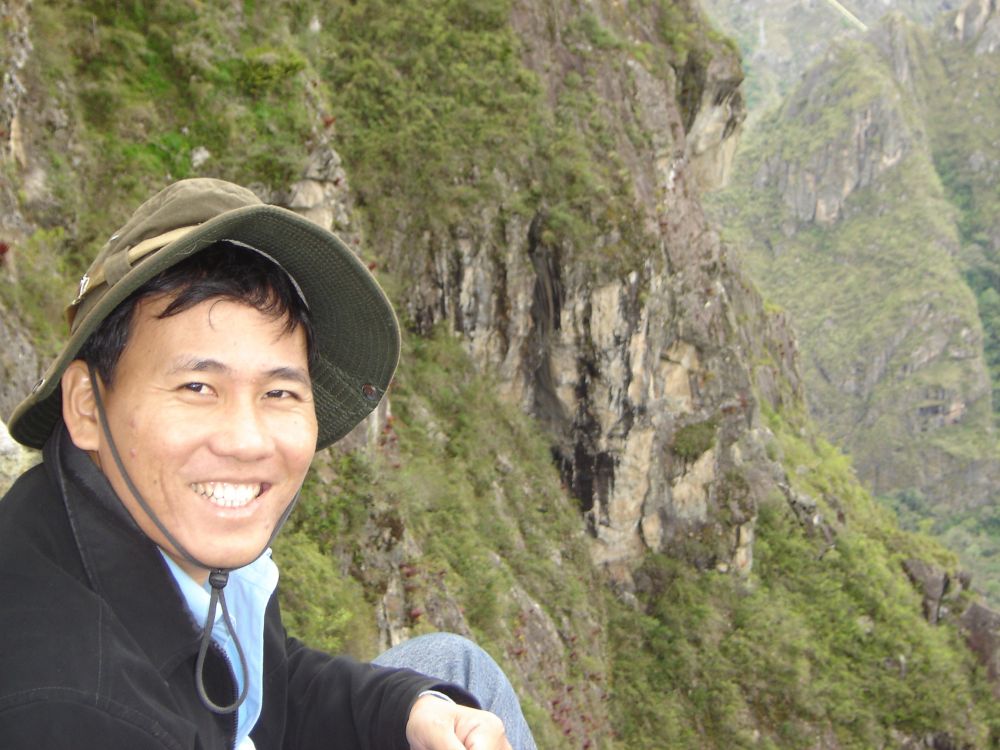 Practicum Summary:
Using Intercultural Communicative Competence Learning Platfom to Increase Student's Communicative Skills and Intercultural Competence at An Giant University, Vietnam
Ngo Tien Nguyen's research practicum examines a new methodology to develop communicative skills and intercultural communicative competence for English students at An Giant University in Vietnam by employing more intercultural-based materials and activities. At the university level, English acquisition in Vietnam relied heavily on Western-cultural based textbooks for many years. These learning texts do not reflect the culture of nonnative English speakers, resulting in strong communication skills via the English language, but a lack of intercultural competence that prevents students from being successful global citizens. In order to improve intercultural competence, Eastern Mennonite University and An Giant University created the Intercultural Communicative Competence Platform (IC3) designed to provide a new learning experience for English students. To test the effectiveness of the learning material on language learning so that it is improved for the benefit of the student, an action research experiment was undertaken. Using data collected from students' tests, questionnaires, and interviews, students were analyzed to find how intercultural competent they were in terms of motivation, knowledge, attitude, and confidence. Although the students observed from the experimental class showed growing improvement in basic language skills and intercultural competence, results were not as high as expected, partially due to a lack of indicators to measure intercultural competency. Nguyen recommends improving IC3 material with more diversified activities and updated information related to intercultural competency.
Practicum Summary:
Effects of Career Guidance on Grade 10 Learners' Readiness to Make Career Choices in Namibia
Antoinette's research analyzes the effects of career guidance on student ability to make career choices at Jan Mohr Secondary School in Namibia. In Namibia, most students entering tertiary institutions lack direction in their course selection and do not possess clear motivations for their chosen field of study, which is attributed to inadequate career guidance and assessment of individual learners, nationwide. In result, students often develop into discontent workers, after leaving their secondary institution without having gained proper knowledge of employment opportunities that fit their skills and interests. In Antoinette's study, she determines whether grade 10 learners who received more career guidance would be more prepared than their peers who did not receive guidance. Thirty-five subjects were randomly selected for the experimental group that received guidance, while the thirty-five remaining subjects were randomly selected as the control group, and did not receive career guidance. The data was collecting using a career readiness questionnaire, which was distributed to the experimental group twice, but the control group one time. In her data analysis, Antoinette discovered that her hypothesis held true: students who received career guidance were far more prepared than their counterparts who were not presented with a guidance opportunity
Practicum Summary:
Role of Community Development Councils in Conflict Resolution at the Village Level: A case study of Dushi and Khinjan Districts of Baghlan Province in Afghanistan
Zakir's research seeks to identify what role Community Development Councils play in resolving conflicts at the village level in the Dushi and Khinjan Districts of Baghlan Province in Afghanistan. At the village level, locals are faced with conflict over land disputes, livestock, water, armed aggression, and other violence that leads to civil and political instability. In order to address regional imbalance and equity, the government of Afghanistan launched a number of development and reconstruction programs to emphasize the process of development and peace. These National Solidarity Programs aim to build capacity by encouraging Afghan communities to identify, plan, implement, and manage their own reconstruction and development projects and lay the foundation for strong local-governance through Community Development Councils. After carrying out a series of case studies and interviews, Zakir determined that Community Development Councils are indeed effective in mediating conflicts at the local level. However in order to sustain the CDCs, he recommends improving the councils by creating government-ordained guidelines for which types of conflicts the councils can mediate, investing in conflict resolution subcommittees, incorporating more respected elders into mediation, and providing additional training in conflict resolution.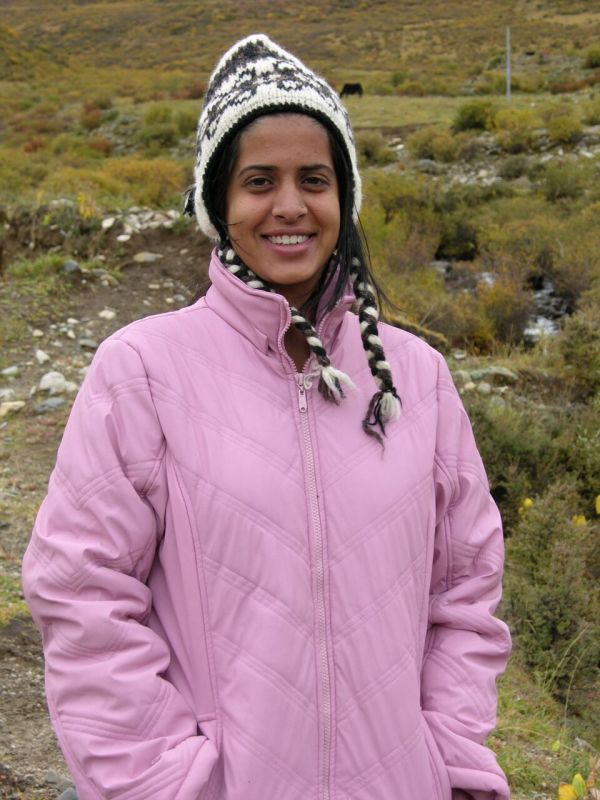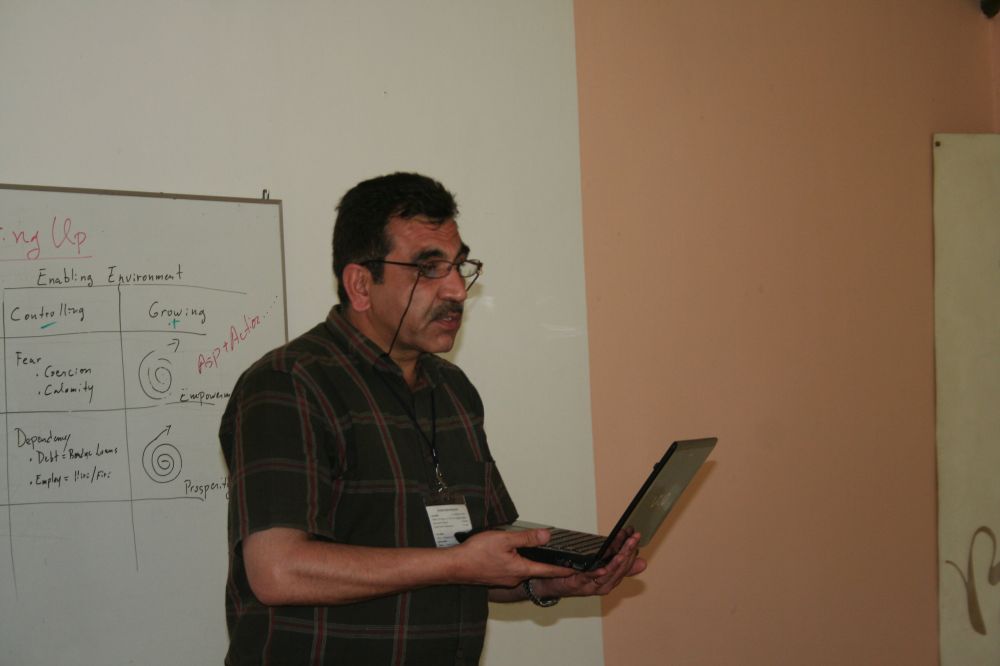 Practicum Summary:
Strengthening Synergy and Coordination Among Local Governance Institutions
The purpose of Ajmal's research is to find and analyze ways to strengthen synergy and coordination among different local governance institutions in Afghanistan. After the establishment of the Islamic Republic of Afghanistan in 2003, various local government institutions have received funding, but have little or no understanding how these funds will be allocated to best serve public interests. A lack of synergy and poor coordination exists among the institutions and elites and warlords continue to hold significant influence on decision-making at the local level. Ajmal states the intent of his study is to understand the roles and functions of local government institutions, explore and analyze the interaction among local institutions, and to identify a way to apply a SEED-SCALE, bottom-up approach to improve their effectiveness. He focuses on four villages of Surkh Rod and Behsud districts in the Nangarhar province of Eastern Afghanistan. Ajmal recommends the promotion of a decentralized government with independent local institutions who are aware of each other's duties in order to strengthen the political structure and coordination among branches.
Practicum Summary:
Street Children in Tanzania
Constantine's research practicum concerns street children in the Kasulu district of Tanzania and the factors that propel children onto the streets. A street child is defined as any girl or boy who has not yet reached adulthood, for whom the street, unoccupied dwellings, and wastelands, has become his or her source of livelihood and who is inadequately directed, supervised, or protected by responsible adults. Constantine sites abject poverty as the underlying cause forcing children onto the streets, which is often worsened by the death of one or both parents, abuse at home, and the need for the child to contribute to the family income. Using focus group discussions and questionnaires distributed to health workers, social workers, teachers, farmers, students, and community leaders, Constantine discovered that contraction of HIV/AIDS, children abandonment, domestic violence, alcoholism, single parenting, family separation, and dropping out of school, irresponsible families, and verbal, sexual, and physical abuse cause children to turn to the streets. Of these factors, death of parents, domestic violence, and household poverty were the top contributors. Often parents of street children succumb to HIV/AIDS, and more often than not, children have contracted the disease themselves. In order to positively affect the situation of street children in Tanzania, Constantine recommends promoting community sensitization, in which individuals in the community are motivated to protect children and their rights. In addition, she recommends instigating self-help Groups so that peers may share their stories and positively motivate each other, forming committees that influence policy concerning the rights of children, training self-help group members on effective and safe income generating activities, and incorporating women into the self-help Group structure as positive forces influencing a child's human development.

Practicum Summary:
Health System in Afghanistan
Besmillah's research study was conducted to analyze the role of Family Health Action Groups and Community Health Workers on the betterment of peoples' lives without outside support in the Siyadara and Rostam valleys of the Yakowlang district in Afghanistan. In order to collect data, 20 Community Health Workers and Family Health Action Groups were interviewed, observed, and served as participants in focus group discussions. From the data collection, Besmillah discovered that community workers who gathered health information from discussions amongst their target communities struggled with finding transportation to visits in their area, decreasing access to community workers at high need sites. Also, community health workers do not get paid during training; Sakhizada presents information supporting that community health workers will be more dedicated if the government and supporting organizations provide financial incentives for these workers.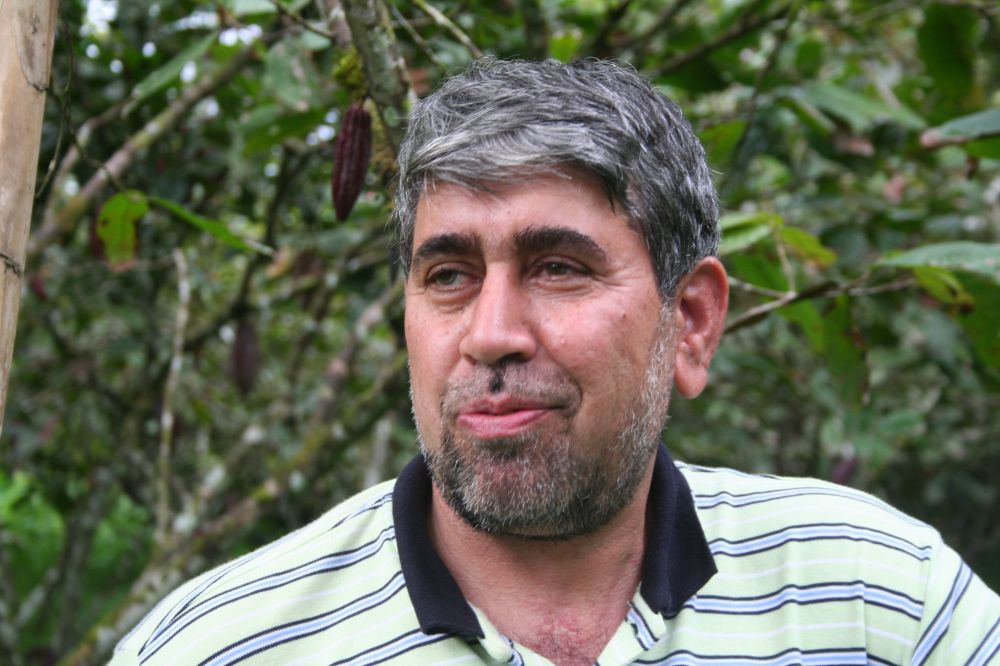 Practicum Summary:
Changes in Afghanistan's Community-Based Health Care
Said Arwal Habib's research addresses the existing policy frameworks that are in place within the primary line ministries, at a national level, and the changes that took place in the Department of Community Based Health Care in the Ministry of Public Health in Afghanistan. Within his study, he discusses the design and implementation of the Community-Based Health Care system and analyzes the outcomes and impact of the system on affected communities. In 2002, the Ministry of Public Health started training volunteers who would work out of health posts in larger villages, aiming to cover 100-150 households. Said Arwal Habib concluded that the program depends on the participation of the people, and the program will grow only when there is peace in the country.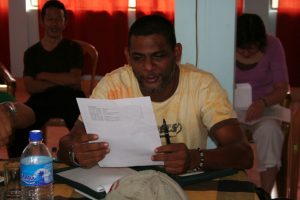 Practicum Summary:
Ethnic Conversations in Sonic Spaces
Rohan's study examines the historical settlement, cultural identities and values, the phenomenon of music, and the role of music in the preservation and sustenance of ethnic and cultural identities in Guyana. The research focuses on three distinct but interrelated subjects: the historical settlement in Guyana, traditional and contemporary musical genres of Guyana, and the development of an integrated music curriculum. He provides an overview of historical colonization and the exploitation of human and economic capital by Europe which led the way for ethnic and communal interdependence. Rohan's research reconstructs the social environment that enabled specific compositions and music performances to foster inter-ethnic peace, harmony, and communal transformation. His study concludes by advocating an expanded music curriculum that interrogates the legitimacy of Guyana six ethnic and cultural identities, and advances the historical social and cultural context that created Guyana's education system. Rohan concludes his study with a newly developed music curriculum for Guyana that will restore, revitalize, and sustain ethnic and cultural values while building a tolerant, bonded society.
Practicum Summary:
Increasing Women's Participation in Afghan Elections
Maryam Safi's research aims to discover the problems associated with women's participation in Afghan elections and the ways to improve conditions preventing participation. Using qualitative and quantitative research methods, Safi presents the importance of women's participation in the election, trends or challenges of women's participation in the election, solutions for existing problems and the realities of upcoming elections. She conducted 100 questionnaires and interviewed 22 individuals, along with implementing 2 focus group discussions with representatives of people in the Afghan parliament, members of civil society organizations, government officials, members of political parties and community remembers in order to complete this research. From her research, Maryam concludes that the majority of people believe in the importance of women's role in shaping a safe and secure future in Afghanistan, and that women's participations in elections is essential. She also points out that threats of insecurity, Afghan culture, family issues, gender inequality, lack of electoral awareness, lack of access to polling centers are major trends hindering women's participation in elections. She recommends that the government of Afghanistan, the international community, and local citizens should support women's participation in elections and influence figures who represent Islam in the community such as religious leaders and scholars.
Practicum Summary:
Konbit: Finding Haitian Solidarity in Modern Times
In Louino Robillard's research practicum, he examines the tradition of Konbit in Haiti, a system rooted in rural Haiti in which peasants help each other cultivate the earth. Over the years, Haiti has steadily grown more dependent on foreign aid, causing Haiti to become known as the "Republic of NGOs." Realizing the negative effects that foreign aid has inflicted, including a representation of Haiti as a backward, poor, charity case, Robillard sought to focus his research on a current success in Haiti– the aforementioned Konbit system. This study uses qualitative research in order to determine how people are performing konbit and the ways in which konbit is interpreted and understood amongst practitioners. Using informal consultations with people in different domains and areas across Haiti, Louino discovered that the four areas where konbit is employed are the agriculture, economic, community, and cultural domains. After completing consultations, Louino drafted a questionnaire and developed case studies and informal focus groups to get his results. He concluded that konbit is not just a traditional cooperative, but a "system of solidarity in which Haitians who are motivated by their consciences voluntarily participate in collaborative action that preserves their livelihoods, their cultures, and their interdependence, in any aspect of life." Louino believes that if Haiti is without a direction, then going back to konbit will restore solidarity among the people. To do this, he recommends entering konbit into the Haitian constitution, teaching konbit in the educational system, educating international aid organizations on konbit, developing politics of konbit, developing a symbol of konbit, and convincing the Haitian Diaspora to collaborate with their hometowns to include the practice of konbit in development.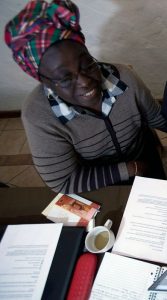 Practicum Summary:
From Crisis to Empowerment Opportunity For the Community of Mahdia, Guyana, SA
Jacquelene's study was designed to discover whether the three-way partnership approach could serve as a mechanism for empowering residents in the community of Mahdia, Guyana, and accelerate the community development process. The three entities involved in the partnership are the following: 1) the central government, who will supervise and provide funding for projects, 2) nongovernmental organizations who will assist with training and empowerment programs, and 3) the local community, who will participate and support the programs, thus instigating a bottom-up development technique. The main goal of the project was to introduce the SEED-SCALE strategy to assist in organizing a citizen-organized approach to development where a traditional government structure is absent. Using a case study approach in which groups were observed, monitored, events documented, sessions videotaped, and public documents analyzed, Jacquelene determined that a three way partnership filled the gap of a traditional strategic partnership, and contributed to achievements among the grass root-level where all sectors are involved in the advancement and empowerment strategy.
Practicum Summary:
Fighting for Survival: Healing the trauma of a broken community through capacity building in Nuestro Barrio, Phoenix, AZ
Reese's research examines the process of social change and healing in a low-income, primarily Hispanic community in a Voluntary Acquisition and Relocation Sound Mitigation program (VARS) implemented by Sky Harbor Airport and the City of Phoenix. The VARS program offered relocation opportunities for those affected by aircraft noise in the Nuestro Barrio neighborhood adjacent to Sky Harbor Airport. The study explores how residents who chose not to participate in the VARS program and remain in their neighborhood improved the quality of life within their community. Reese uses her experience as a nonresident, societal action science researcher to address how structural violence, or constraints placed on human potential due to economic and political structures, is affected by capacity building, community mobilization, trauma healing, and the development of community partnerships.
Practicum Summary:
The Role of Health Committees in Strengthening the Peripheral Health System in Takhar, Afghanistan
Nazir Rasuli's research reviews current practices in the healthcare system at the peripheral level as well as compliance with the Ministry of Public Health, Community Based Health Care policy and health committee guidelines. Due to Afghanistan's ranking 173 out of 178 on the United Nations Human Development Index, the Basic Package of Health Services for primary health care and the Essential Package of Health Services were created as strategies for community based health care for secondary and tertiary levels of Primary Health Care in 2002. Since the defeat of the Taliban in 2001, medical services in Afghanistan have primarily been provided by NGOs contracted through the Ministry of Public Health. A decade ago, only 9 percent of Afghanistan's population of 28 million people had basic health coverage; today, nearly 85 percent of the population has access to basic health care within a 2 hour walk. In order to conduct his research, Rasuli conducted interviews and focus group discussions with leading health workers, health shora members in 4 health facilities who serve as the committee and council, and the public health directorate. The specific issues Rasuli addresses in his research is the deficit in managerial and technical capacity of the health council's members in monitoring the health facility and strengthening the health system, and the low awareness of health council members about their relevant roles and responsibilities in the national community based health care program. Ultimately, Rasuli concludes that providing training for health shoras on conducting and managing meetings, creating capacity building programs by NGOs, increasing interactions between the community and the health facility, and updating heath shoras on current staffing conditions should be included in a comprehensive strategy to improve the overall effectiveness of the health shora and overall Community Based Health initiative.
Practicum Summary:
Studying Effectivenss and Sustainability of Sawmill and Wood-Based Industries in Thimphu, Bhutan
In his research practicum, Sonam explores the sustainability of wood-based industries and supply and demand market regulation in Thimphu, Bhutan. Although there is strong political will to protect Bhutan's 72.5% forest cover, fast population growth, developmental activities, and the resulting demand for timber fuel challenges the likelihood of forest protection in the future. In Bhutan, per capita wood consumption is relatively higher than that of neighboring countries, with 95% of households reliant on timber for lighting, heating, and cooking. In his study, Rabten found that there is an excessive amount of waste in the processing of timber at sawmills. In order to reduce waste in sawmills and therefore decrease logging activities, Sonam recommends training sawmill workers in new waste-reducing practices, investing in new, more efficient technologies, repurpose wasted wood offcuts, producing byproducts such as briquettes, and involving all stakeholders in policy making and decision making about timber production.
Practicum Summary:
Knowledge, Attitudes, and Decision-Making Processes Regarding Children with Acute Respiratory Infection and Acute Diarrheal Disease in the Charahi Qamber Internal Displaced Population Camp
The goal of Pir Mohammad Paya's practicum study is to better understand the knowledge, attitudes, practices, and decision-making processes with regard to children with acute respiratory infections and acute diarrheal diseases in Qamber Interna Displaced Population Camp in Afghanistan. This study also seeks to better understand the underlying factors and to collect relevant information to design effective interventions in efforts to reduce the prevalence of communicable diseases among the children in the Internally Displaced Population Camp in Kabul. Using qualitative data assessment in the form of focus group discussions split between male and female groups, 7 participants were identified to participate according to certain qualifying factors. These qualifying factors required that women have at least one child less than 5 years of age, each man was the husband of a woman participating the FGD, and all subjects participating signed the translated informed consent. After conducting an analysis, it was determined that both participating men and women had a very poor overall understand of acute respiratory infection and acute diarrheal disease. Pir Mohammad Paya recommends initiating an awareness campaign within camp using posters, stickers, brochures, and aired messages through mass media. He also advocates for a mosque-based educational approach in which religious leaders facilitate public health education and home-based visits by trained female community health workers. In the long term, he recommends the establishment of a girls' school where a female teacher would be culturally acceptable, distribution of hygiene kits, an increase in trained community health workers, strengthened health education programs in health facilities, and increased access to safe drinking water to reduce the prevalence of infectious disease.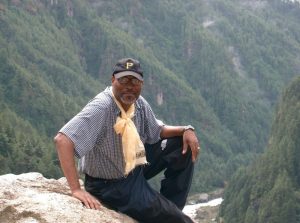 Practicum Summary:
Can the Partnership of African American Churches use the SEED-SCALE Process to equip Black Churches to become agents of empowerment in their communities in West Virginia?
James Patterson's research examined the history of the Partnership of African American Churches in West Virginia to determine whether the churches could use their energy to instigate social change. In order to establish parameters for the ability of the churches to implement social change, James used the SEED-SCALE model of community mobilization and empowerment, which stands for Self-Evaluation and Decision Making and Systems for Communities to Adapt, Learn, and Expand. After conducting an analysis of PAAC's activities and partnerships, James determined that the organization is implementing the SEED-SCALE model at the Stimulating Community Awareness, Learning, and Energy level, but is not implementing the model at the Self-Help Centers for Action Learning and Experimentation and Synthesis of Collaboration, Adaptive Learning, and Extension Levels. Inevitably, the research revealed that the capacity of congregational communities was not being built. In order to build organizational capacity and develop leaders of social change, James recommends the PAAC develop Self-Help Centers and engaging in adaptive learning experiences, which will help address the fundamental issues of empowerment.
Practicum Summary:
Assessing Health Knowledge and Practices in Households for Childhood Pneumonia
Sivna Oun's research practicum assesses the effectiveness of World Relief's "Light for Life" Child Survival Project in the Chey Nikum and Chipaing Health Center catchment area in Ponhea Kriek-Dombe Operationa District and Kampong Cham Province, Cambodia. During the course of the Child Survival Project, 318 Care Groups with 2490 village volunteers were created to perform education and community mobilization to prevent sickness, including childhood pneumonia. Among the 16 health centers in the project area, two of them were randomly selected as research sites for the knowledge, diagnosis and treatment of childhood pneumonia. Oun found that the overall percentage of mothers who correctly used antibiotics to treat their child for pneumonia increased by 3.2%; the final survey showed that among the children who were sick and treated with pneumonia, none died over the last 8 months of program implementation due to the positive impact of the Child Survival Project.
Practicum Summary:
Transmission of Indigenous Knowledge and Practices in Nigeria: The role in sustainable yam production.
Uchenna's study focused on the channels of transmission of indigenous knowledge and practices for promoting sustainable yam production in Nigeria, and the methods used to learn these practices. In Nigeria, the yam, which is consumed by the majority of the Nigerian population, is considered an important contributor to food security and reducing poverty. However, after the discovery of crude oil, stakeholders in Nigeria's economic development began to neglect agricultural food production, which was once the mainstay of the Nigerian economy. Using a three-pronged approach including a literature review, a case study of the Bawri Community, and the Uchenna's personal experiences, Uchenna conducted a research study addressing the future of the yam in the economy and health of the Nigerian people. The study revealed that the annual New Yam Festival, held at the end of each rainy season, is a key channel and opportunity for the transmission of indigenous knowledge of yam production. In order to sustain the transmission of yam production knowledge between the older generation and the younger generation, Uchenna believes that the government should take on the role of enabling systems and events to facilitate the transfer of information.
Practicum Summary:
Establishing a Pendeba Society for Community Change and Conservation in Qomolangma National Nature Preserve
The Pendeba Society, previously known as the Pendeba program, has faced many challenges throughout the years. The original Pendeba program was created in 1996 by Future Generations in Tibet as a method for local leaders to gain skills related to environmental protection, conservation, healthcare, women's education, sustainable livelihoods, and renewable resources. In 2008, largely due to rapid economic development in China and an unstable political situation in Tibet, the Pendeba program was terminated. Norbu, who previously worked with the Pendeba program in Tibet, realized the significant impact felt by locals when the program was discontinued. Traveling from village to village, he faced the same question from the locals– what became of the Pendeba program that had captured the profound interest of the community? He knew he had to do something. He needed to go local. He decided to take the bottom-up, seed-scale strategy to a new level by seeking the support of the Chinese government. Norbu faced many challenges and restrictions. He spoke to countless officials, locals, and the movers and shakers in the community who continually offered him support. One of his supporters included Mr. Gongu Duoji-La, the first Tibetan mountaineer to climb Mt. Everest, who happened to be from a town close to Norbu's own birthplace. After countless setbacks, frustrations, and tribulations, Norbu created the Pendeba Society as a civil organization registered in both China and Tibet on June 26, 2009. In 2012, the Pendeba Society was conferred as a Top Grade Civil Organization by the Department of Civil Affairs of the Tibetan Autonomous Region. Recognition continued, and in 2014 the Pendeba Society was selected as winner of the Equator prize by UNDP and winner of the Environmental Prize by the Chinese Ministry of Environmental Protection. Although the difficulties of functioning as a community development organization still rest as an everyday reality, the Pendeba Society stands as an example of what one individual can accomplish if his or her heart is dedicated to the cause. Norbu expressed, "As a leader, you should have a strong passion to do something and have infinite patience to do them in many different ways until you realize your dream." Norbu, in all his efforts, is a beautiful example of what our students accomplish at Future Generations University through our Master's in Applied Community Change.
Practicum Summary:
Ethnic Based Conflict in Kenya: A Comparison of the Effects of Violent Conflicts on Youth and Other Community Members in 2007 and 2013 Elections in Kuresoi
Stanley Nderitu's study analyzes the effects of ethnic conflicts in Kenya and how the violent conflicts affect the youth and other community member's social life. After the 2007 election in Kenya, over 600,000 people became internally displaced due to ethnic conflict. Even prior to 2007, ethnic conflict has disoriented the social life of Kenyans, particularly people of the Kuresoi constituency. In order to conduct the research, Stanley used questionnaires and follow up interviews with 200 randomly selected respondents. Half of the sample were high school students, while the other half were community members. After summarizing the data in tables and correlating the opinions of students and community members, it was determined that there was no significant difference in both constituency's opinions. Ultimately, the study determined that tribalism and a low level of interaction among the ethnic communities were the primary precursors of election violence. To avoid negative attitudes from influencing youth in the future, the following interventions are recommended: 1) Enhancing civic education, 2) establishing institutions that equip youth with skills and knowledge that will increase the chance of youth being employed or involved in gainful engagements, 3) streamlining the delivery of government services and taking advantage of new constitutional dispensation without devolving devices such as corruption, 4) promoting community policing, and 5) enhancing campaigns against tribalism and entrenching national cohesion through peace education.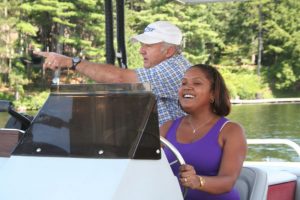 Practicum Summary:
SEED-SCALE approach for improving community livelihood and conservation: The case study of Masakenari Village
Suzanne's research addresses the impact of money on the values of the Waiwais people in the last decade after receiving external grants provided from conservation International in 2006 to manage their lands as a Community Owned Conservation Area. Prior to declaring their lands as a conservation Area, the Waiwais people depended on a traditional subsistence economy of trading and bartering. However, after receiving funding from external agencies, the community transitioned to a cash based economy. In her research, Suzanne assesses the impact a cash based economy has had on the culture of the Waiwais, including a high level of dependency on external funding. Furthermore, she discusses the SEED-SCALE approach and how it could contribute to positive reformation of the community livelihood and conservation initiative in Masakenari village.
Practicum Summary:
Potential Determinants of Youth Violence in Maputo Neighborhoods
Despite the opening of governance to popular participation in Mozambique since the beginning of 2008 to the end of 2010, urban areas, especially the capital city, have been the stage of violent demonstrations and lynching practices by young populations. In his research, Hermenegildo aims to analyze the factors that influence the population from suburban neighborhoods of Maputo, Mozambique, in particular young people, to resort to violent and aggressive attitudes in solving their problems and claiming their rights, despite the increase in space for citizen participation in governance. To guide his study, Hermenegildo proposes a question, "What makes youth groups have a tendency to use direct violence as a way of expressing their voice, in spite of democratic institutions and channels created to assure citizens participation in local governance?" Through research, he discovers that there was an increase in poverty in Maputo during the past five years, characterized by the deterioration of living conditions of the urban population, an increased population, and the rising cost of basic services and products. His study also reveals that there is a severe limitation in current municipal programs regarding who the programs cover and how resources are allocated, which inhibit these programs from effectively combating poverty. Dependence on foreign capital and a restricted budget limit municipal programs from reaching their full potential, along with the failure to include citizens in the formulation of local development programs and public services. Hermenegildo concludes that youth groups are living in an environment where counter-satisfaction factors are dominant in creating an attitude geared toward violent practices and aggressiveness in solving their problems, which cannot be improved unless the local governments in peripheral areas are strengthened to bring legitimacy to its democratic institutions.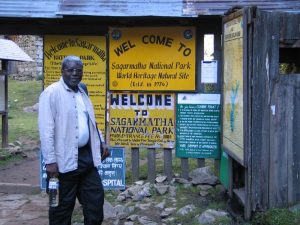 Practicum Summary:
Zambia for Community Change
In his research practicum, Bruce Mukwatu examines the factors associated with a decrease in the community support structure in Zambia in order to effectively contribute to the support of Orphans and Vulnerable Children (OVC). Currently in Zambia and many other African countries, young people contract HIV/AIDS through unprotected sex and return to their communities to have children. Unfortunately, many parents subject to HIV/AIDS die, leaving their children behind to live with grandparents or worse, on the streets. In his conclusion, Mukwatu recognizes that there are projects in Zambia being implemented to address issues concerning OVCs. Mukwatu also proposes a solution– the creation of The Zambia Academy for Community Change project, that trains existing institutions and community development practitioners how to work more effectively with communities so that they can respond positively to issues relating to OVCs. In this, more NGOS and community-based organizations will be involved in addressing the needs of OVCs, and will be exposed to the SEED-SCALE process of bottom-up development to bring about sustainable social change.
Practicum Summary:
Upsurge in Criminal Activities in Nigeria
Patricia Michael's research practicum examines three peace-building initiatives that were implemented to reduce social tensions and crises, improve relationships, reduce poverty, and sustain peace in the Kwale community of the Niger Delta region of Nigeria. The primary objective of this study is to analyze the contribution of the peace-building programs, and determine the reasons behind the increase in criminal activity in spite of these peace building initiatives. Using qualitative and quantitative data collection methods including questionnaires, individual interviews, review of the peace initiative documents, and person observation, Patricia determined that the EU-MPP3 peace initiatives achieved its initial objectives, but other programs such as the USAID CALM program were terminated due to a lack of funding and the electoral violence in 2007. Therefore, the USAID CALM project was unable to succeed in its peace-building goals. In addition, Patricia's research concluded that the increased rate of criminal activity was a result of irresponsible and insensitive leadership, bad governance, and unemployment, greed on the part of the youth, poor upbringing, and poverty. Michael recommends life and technical skills training programs for youth so that they may access jobs in the oil industry, inclusion of compulsory peace education in schools, and off-farm trainings.
Practicum Summary:
Exploration of Sustainability Mechanisms for Wash Interventions in TA Mphuka in Thyolo District in Malawi
In Samuel's research practicum, he explores the factors that have contributed to failure for communities of Traditional Authority Mphuka in Thylo District in Malawi to stain their Water, Sanitation and Hygiene (WASH) initiatives. The goal of the study is to allow development agencies to realize the existing gap in approaches and work on a solution for the sustainable implementation of community initiatives after the withdrawal of agency staff. Communities where development agencies have worked often expect service providers to continue managing projects, such as boreholes, taps, and shallow wells that were "handed over" to the community after a certain point. In his study, Samuel highlights the fact that roughly half of WASH initiatives fail to function sustainably after the withdrawal of development workers due to the community's lack of knowledge on how the tool functions, and lack of ownership over the project. Through his research, Samuel formed recommendations that could improve the effectiveness and sustainability of WASH initiatives. These include highly participatory programs that engage relevant stakeholders such as the community, government, NGOs, civil society, and local leaders, creating an environment conducive to community ownership of a project, bottom-up management projects, clarifying community commitment, monitoring and evaluation programs, eliminating early exits by development groups, using local community organizations in carrying out WASH initiatives, and mainstreaming WASH tools using sanitation marketing.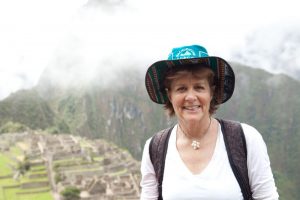 Practicum Summary:
Mobilizing the capacity of families and local providers in the rehabilitation in post-earthquake Haiti: A Multiple Case Study Report
McLennan explores the history of Haiti and its relationship with international aid agencies, and analyzes the long-term effects of these agencies in Haiti after the earthquake disaster in 2010. Through her research and personal experience as a rehabilitation worker, McLennan that post earthquake disaster relief efforts in Haiti lack on emphasis on local capacity building, and largely disregards the needs of the disabled population– which increased significantly after the earthquake. McLennan concludes that relief efforts would be more effective and development initiatives more successful if the focus was on building local leadership skills that help mobilize beneficiaries and providers that are not dependent on outside agencies and expertise.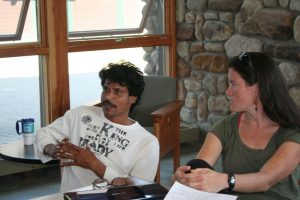 Practicum Summary:
Water Pollution and Social Change in Bandladesh
Shahidul's study seeks to understand and explain how industrialization and its polluted effects to rivers induce social change to protect the environmental, ecology, and livelihoods around the Bangshi River. The Bangshi River is an important tributary of the Barhamaputra-Jamuna river system in Bangladesh and also a main resource for local people of Ghughudia. This research focuses on options for sustainable and environmentally friendly industrialization for community change and improvement of the economy and employment rate in Bangladesh, specifically in the village of Ghughudia. Two questions were examined: 1) What are the perceptions of different actors in regards to water pollution, and 2) How can these actors be mobilized to reclaim the rights of the people? To gather qualitative information, Shahidul conducted focus group discussions, in-depth interviews, and descriptive surveys. The representative stakeholder groups include fishermen, farmers, small businesses, milkmen, and students from Ghughudia, while owners of industry, politicians, media counterparts, and civil servants were identified outside of the Ghughudia village. In order to promote social change, Shahidul recommends identifying stakeholders interests and encouraging behavioral change, education on environmental water management, capacity building for local government, advocating for consumer awareness, and an overall environmental campaign backed by livelihood opportunities.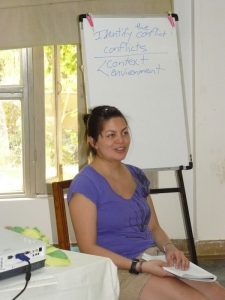 Practicum Summary:
The Role of the Scholar-Athlete Games in the Development of Peacebuilders
Paz's research focuses on the Scholar-Athletes Games program, which is a primary contributor to the field of Sport for Development and Peace. The purpose of his study is to measure the effectiveness of the program using quantitative and qualitative methodology, including an online survey system and virtual focus groups. The results revealed that the Scholar-Athlete Games alumni exhibit attitudes and behaviors that serve as peace indicators, although the Games are not necessarily the sole reason for these reactions.
Practicum Summary:
The Impact of the Women Development Fund on Women of the Johanne Marange Apolistic Church in Mutasa, Zimbabwe
Chido's practicum study investigates the impact of women economic empowerment programs housed in the Ministry of Women Affairs, Gender, and Community Development in the Mutasa district in Manicaland Province, Zimbabwe. The study was conducted in order to find methods to encourage development agencies and the government to conduct research and inquiries on the way that women and girls in the Johanne Apolistic Church can be empowered. In order to collect information from thirty respondents, a descriptive survey, questionnaires, interviews, and focus group discussions were used. Ultimately, the research found that empowered women exhibited stronger, more positive self-esteem, and felt more prepared to take on higher level positions within the church and society as a whole. In addition, empowered women who were more economically secure contribute to household food security and increased disposable income, which in turn has a multiplier effect on the family. In the religious realm, women's empowerment contributes to gender equality. To increase economic opportunities for women and overall empowerment, Chido recommends providing more funding for women in the church through a gender mainstreaming strategy and creating networking opportunities among women.
Practicum Summary:
Building Comunity Collaboration in Watershed Rehabilitation in Chendona Village, Paro, Bhutan
Ugyen's research practicum focuses on the problems associated with watershed degradation in the Chendona Village of the Paro district of Bhutan, which include a lack of drinking water, inability to practice sanitation, agricultural fields unfit for farming, and food and income insecurity. The contributing factors to the water shortage problems in Bhutan are associated with human impact and climate change, and include watershed degradation, over-harvesting which results in excessive runoff, wild fires, the country's topography, terrain, and changes in precipitation. Chedona Village was chosen as the research site due to the community's experience with water shortages. Until recent decades, the community had practiced a sustainable forestry management system through communal forest management and private forestry which maintained the health of the surrounding watershed and the small streams within it used for drinking water. In order to identify solutions to the water shortage crisis and initiate interventions to improve the situation, Ugyen conducted a community consultation meeting, household surveys, field observations, report presentations, and focus group discussions in the Community of Chendona. In his results, Ugyen recommended mass community replantation projects to allow the absorption of run-off into the groundwater, the creation of conservation policies with input from locals, community awareness and education workshops, and the implementation of community-based participatory by-laws to control legal and illegal logging in critical watershed areas.
Practicum Summary:
Neomicrocalamus Andropogononifolius in Kangpara, Bhutan
Tshering Lham's study concerns the depletion of Neomicrocalamus andropogonifolius, also known as ringshu bamboo, in Kangpara, located in the eastern district of Trashigang, Bhutan. Communities in this region use ringshu to create fine bamboo products to sell in urban markets, but they must travel further and further away from their villages to find materials for their work. Using ground field surveys, social and economic data, and an analysis of local perception and government policies, Lham assessed the factors that contributed to the decline of the ringshu population in local forests. Ultimately, he found that a lack of local institutions, a gap in forest policies and implementation, limited scientific and technical knowledge and skills in sustainably managing ringshu, contributed to the profound decline in the ringshu population in local forests.
Practicum Summary:
Exploring the Significance of Indigenous Knowledge Applications in Resolution of Land Conflicts in Acholiland, Uganda
James's research practicum explores alternative means toward resolving land conflicts that arose after the return of Acholiland inhabitants who had been forced out of their homes were permitted to return to their homeland. In 1994, in an effort to subdue the Lord's Resistance Army, the Uganda People's Defense Force relocated Acholiland inhabitants to Internally Displaced Persons Camps. As the Acholi people returned to their community, they faced many challenges associated with the redistribution of land, including land-grabbing by politicians, civil servants, the business community and local and national investors. In many areas, these disputes resulted in the re-displacement of people, destruction of property, and even the loss of life. In this case communities that once lived together found themselves in the midst of a second war. In order to collect data over a twenty month period, James focused on the lived experiences of the Puranga Clan, which he documented through historical memory practices, interviews, observations, and focus group discussions. After analyzing his data, James constructed the following recommendations to resolving land conflicts in Acholiland: engage lawmakers to identify loopholes in the Land Act and push for amendments that will protect the land and its rightful owners; educate the masses on the practices of land law using radio, schools, and training programs; empower lower courts to handle less contestable rulings; and involve traditional practices as complimentary methods of resolution to formal procedures.
Practicum Summary:
Seeking Opportunties for Positive Change on the New Mexico Border
Ellen Lampert's research practicum examines cross-border state and local policy in the context of federal directives in New Mexico, specifically the border situation and those who determine the policy that affects the situation. To carry out her study, she first studied the history of the situation and identified contributing factors such as historical trends and racist rhetoric. She then described the existing situation in terms of recent developments that included a rush to increase border security in the aftermath of international terrorism, socioeconomic disparities that drive Mexican economic migration, drug and human smuggling, paramilitary vigilantism, the border wall mandate, Congressional representation, and unrealistic or conflicting policy. Lampert's final step in her research is to explore the possibilities for defusing or halting negative rhetoric being encouraged at the federal level that has adverse effects on the state and local community and the way that policy-implementing groups and individuals can work towards a plan for positive resolution. Lampert concludes that the primary problem regarding the decision to build a wall is failure to discuss adequately what the border region should look like in the future. In order to improve relations between the New Mexican community and the US Government, there should be an officially agreed upon vision and strategic plan, constructive dialogue, joint infrastructure projects, and good academic, trade, and labor relations, which will be more mutually beneficial than a wall with armed troops.
Practicum Study:
Effectiveness of Czech Youth Learning about Global Issues
Lamacova's research focuses on the effectiveness of two programs he developed, Global Village and Summer School of International Development Assistant, for high school students in the Olomous region of the Czech Republic. Lamacova studies the way that both programs increase high school students' awareness about global development issues, because students do not have a chance to discuss these issues in school since the Czech school system is information-based and not skill and attitude-based education. After analyzing both programs using questionnaires and focus group discussions, Lamacova determined that the Summer School of International Development is a more effective mechanism for changing the mentality of youth. However, the Global Village program still offers an introduction for schools and teachers to address issues such as the unequal distribution of populations and resources, even if it has not proven to catalyze a shift in youth mentality to a more global perspective.
Practicum Summary:
Designing the landscape of human livelihoods through the regenerative and healing educational methodologies of Permaculture
Ashlei's research was conducted through a pilot project designed for an Italian Agriturismo community, or a collection of small family farms, in the Italian province of Grosseto in Tuscany, Italy. The objective of the project was to examine the possibilities of improving livelihood opportunities in Agriturismo communities through the implementation of regenerative and healing permaculture education programs. The project had three phases: preparation of a Permaculture course, facilitating the course, and follow up data collection on the course. In order to determine how an Italian Agriturismo community will design itself in a permaculture lifestyle to enhance their overall livelihood, Ashlei conducted a case study, a survey, follow up interviews, and site visit experiences after offering a 72 hour course on Permaculture and additional trainings in the community of Grosseto. Ultimately, she discovered that 83% of students thought the course was a positive experience and enjoyed Permaculture, and 67% admitted to lifestyle changes and thought of the course as a catalyst to future endeavors and livelihoods.
Practicum Summary:
Exploring the Contributions of Village "WASH" Committees in Achieving "WASH" Program Objectives and the Empowerment of Rural Women in Bangladesh
Razaul Karim's research practicum focuses on the study of the contribution of Village Water, Sanitation, and Hygiene (WASH) Committees to achieve the WASH program objectives and to empowering the rural women of Bangladesh. Village Wash Committees address existing water and sanitation situations of their village and identify issues that require urgent action. VWCs focus on reaching the poor, providing hygiene education to the entire population, and focusing on women's participation in decision-making. Karim measured women's empowerment by using seven indicators: voluntary efforts and active participation, ability to influence major decision-making, expression of voice, knowledge and skills, freedom of mobility, control over resources, and self-image, sense of self-confidence, and leadership roles. Using questionnaires, interviews, observations, focus group discussions and document analysis, Karim found that VWCs, cluster meetings, and informal interactions have helped women to improve their social capital and sense of empowerment. Women were found to be more engaged during VWC meetings and capable of making more decisions at home. In addition, women were also found to have more ability to interact with elected officials, and waterborne diseases decreased in result to VWCs. Overall, Karim concluded that knowledge and awareness-building interventions such as the Village Wash Committees, require community participation in order to procure the most positive, effective results.
Practicum Summary:
Health Behavior Among Tribal Mothers of Arunachal Pradesh, India
Dr. Tage Kanno's research practicum examines whether training selected women in the villages of Arunachal Pradesh, India will result in wide dissemination of knowledge and help bring about a positive change in the health-related attitudes and behaviors of the people in the entire village. The region of Arunachal Pradesh faces numerous challenges associated with health, including the location of villages in remote places with little or no access to roads, transportation, or information, the fear of vaccination due to the traditional, nonclinical roles religious leaders have played in healthcare, and the lack of trained staff to work in clinical facilities built by the Indian government and other development agencies. In this practicum, Dr. Kanno focuses on the effect of Future Generations Arunachal Pradesh's approach to building the capacity of communities to improve health and diseases among tribal mothers by training Village Welfare Workers who are expected to share their knowledge to members of her group about health, and who will in turn further spread the same knowledge to men and women in the village. In an effort to provide Future Generations Arunachal Pradesh with a formal evaluation of its programs, Dr. Kanno examines whether a possible increase in knowledge and awareness has led to desirable changes in the behavior of the trial mothers in Arunachal Pradesh, and whether this change in behavior has led to the better utilization of various health care services provided by the government. Overall, Dr. Kanno determines that the villages whether Future Generations programs were carried out in the last eight years prior to the survey did far better than the control villages in terms of positive health behavior among the mothers. It was found that the FGA program has made the most progress in its promoting of home-made ORS as the first line management of diarrheal diseases and steam inhalation for pneumonia, improving nutritional support of children with diarrhea, and washing hands post-defecation to prevent illness. In addition, boiling water is more common in the intervention area, along with the less frequent use of alcohol. Overall, Future Generations Arunachal Pradesh has proved to be effective in implementing health programs across the region.
Practicum Summary:
Feeding Patterns Among HIV Babies at Upper Mulago Hospital in Uganda
The main objective of Margaret Kaggwa's practicum study is to investigate the problem of breastfeeding among babies who are HIV positive at Upper Mulago Hospital Postnatal and Young Child Clinic in Uganda. The HIV pandemic is widespread in Uganda, and one of the greatest challenges in the field of health. There is significant evidence that the HIV virus can be transmitted from mother to child though breastfeeding. The objectives of the study were to establish the socio-demographic background of the custodians of the babies, recognize feeding patterns among the HIV positive babies, and to identify factors that influence these feeding patterns. Using face to face interviews, focus group discussions, and questionnaires, Kaggwa collected data from mothers, fathers, or other caregivers bringing babies to the postnatal and young child clinic. Inevitably she determined that the majority of babies were aged between 11 and 14 weeks, and below the recommended, or average weight margin. She found that the majority of parents were not subscribing to optimal feeding patterns due to inadequate knowledge of how mixed feeding patterns can affect a newborn, as well as a lack of education on how HIV is spread from mothers to their children.
Practicum Summary:
Adapting Poverty Reduction Strategies in Uganda
Anthony focused his practicum study on the Nyamanga Community in the rural area of Kyenjojo district of Uganda, where the majority of community members live in abject poverty. In remote rural areas, smallholder farmers do not have access to vehicles or proper roads to transport their products, and market linkages are weak or nonexistent. They also lack access to financial services and technology to help prevent disease and pests from destroying their crops. In cooperation with members and policy makers, Anthony used in depth interviews and focused group discussions to analyze the different strategies and successes associated with eliminating poverty. Anthony points out that enabling environment and policies at the community level will not help if the impoverished individual is not motivated to propel himself out of poverty. In order for individuals to become motivated and envision a path of out poverty, he recommends that governments set up infrastructure projects such as building roads and searching for markets for agricultural produce, in addition to setting up schools, health facilities, and businesses where people can buy local products. A lot of the time men, the head of the household, will earn a substantial amount of income, but due to patriarchal culture, alcoholism, and poor money management, earnings quickly disappear, without any benefit to the rest of the family. However, the study did show that households in which the wife and husband worked together were more likely to lift themselves out of poverty. The three characteristics needed to fight against poverty that were encountered the most often during this study were hard work, financial discipline, and an independent mind with the effective use of personal judgement. Anthony concludes that to reduce poverty among community members, individuals need to change their behaviors and empower themselves to take responsibility for their own development, diversify sources of income, investing, and to practice being trustworthy, faithful, and hardworking.
Practicum Summary:
Neonatal Mortality Rates: Causes and Strategies to reduce rates at Kibogora Hospital Zone in Rwanda
In her research practicum, Kabadege calculates the newborn mortality rates in the Kibogora Hospital Zone in Rwanda, analyzes the causes of new birth mortality, and discusses the best strategies for reducing mortality rates through an analysis of local data. In order to calculate mortality rates and discern the causes of neonatal death, Kabadege used data from a community-based health information system through verbal autopsies with mothers who had experienced a newborn death, in-depth interviews with key informants in the Rwandan health care system, and focus group discussions with local care groups. Inevitably, Kabadege determines that the underlying factors contributing to newborn mortality were a lack of antenatal care and access to a healthcare facility, premature births, complications in delivery, and delay in seeking care of newborns. Suggested strategies to prevent newborn mortality include promoting antenatal care and facility deliveries, improving newborn care, promoting subscription to health insurance plans, and promoting family planning. In addition, adopting strategies used by the Child Survival Program such as community mobilization, targeting community leaders and families, and seeking out community developing committees, could greatly reduce the rate of newborn mortalities.
Practicum Summary:
Using Sports for Social Development and Promoting a Better Image of Cité Soleil
In her research practicum, Savela examines the relationship between sports and other collaborative games and whether or not Future Generations Haiti could use sports to encourage a gradual change in the trends and evolution of prejudices between residents of the community of Cité Soleil in Port-au-Prince, Haiti. Historically, sports games have been used as a method of social integration and unification between people from different cultures and walks of life, as well as a way to instill national pride among citizens. Savela bases her theory that sports can help in unifying the slums in Cité Soleil on the thoughts of M. Ban Ki-Moon, who is the Secretariat General of the United Nations. He claims that sports are an important factor in social change and peace, and contribute to the achievement of the Millennium Development goals set up by the United Nations. In Savela's research, questionnaires, interviews, and documentaries were used to access whether the relations between citizens living inside and outside of Cité Soleil could improve due to unification through sports. Savela concludes that while sports cannot be used as a development tool on its own, sports events between communities can foster psychological comfort needed to boost morale, unify citizens and break down sociocultural and economic borders— all circumstances required to pave the way for peace.
Practicum Summary:
Cultural Dialogue: An approach to social cohesion in Kabul City, Afghanistan
Reyhaneh's research practicum focuses on the challenges and opportunities of intergroup dialogue between the Sikh and Muslim populations in Kabul City, and seeks to identify what impact this dialogue has on promoting social cohesion and mutual understanding. In order to collect data on the learning processes of and outcomes for youth of different ethnical backgrounds, Reyhaneh created a program dedicated to the promotion of peace and social cohesion through cultural dialogue. Using surveys, observations, and interviews, the study revealed that community members believe that cultural exchange through conversations and involving women as leader's discussions have a great impact on improving intercultural relations between the Sikh and Muslim communities. In order to strengthen social cohesion between the two ethnic groups, Reyhaneh recommends implementing national policy with both parties involved, raising awareness about cultural exchange, addressing issues of prejudice and bias in communities, and including intercultural dialogue in public school curriculum.
Practicum Summary:
Study of Perceived Positive Deviant Communities in South and Southeast Afghanistan
Amanullah's practicum focuses on community's uncommon, but successful behaviors and strategies that have successes in managing security, development and peace building in their areas without any outside intervention. Using field-based listening techniques of open-ended questions and observations and questionnaires, Amanullah explores the determinants and dynamics in the existence of practices in positive deviant and non-positive deviant perceived communities in the Khogyani District of Nangarhar and Andar and the DehYak District of Ghanzi Province and Khoshi District of Logar Province. Through his study, he was able to identify and learn how communities have traditionally succeeded in maintaining peace and security in their villages—positively deviant communities, while whereas their neighboring communities with the same resources have not achieved this peace—non-positive deviant communities. In Taliban-controlled regions of Afghanistan, any raising of the community voice against the Taliban's rule of law is considered deviant, and is considered a punishable sin. Through his data collection, Amanullah found that communities who did experience some resistance against the current regime, a deviant community, had the authority to act and resolve their issues without involving other parties, but only if the community institution is respected, maintained, and practiced. These social systems have either been developed by their forefathers or recently developed by their own action, but normally in the presence of Taliban military force or wealthy families with the resources to enforce these rules. Although it is often accompanied by armed force, Amanullah discovered that communities with strong local leadership that promoted the interests of the local community were more often than not communities that experienced high levels of peace and security. Amanullah believes that actively engaging the local community can increase communities' opportunities for peace.
Practicum Summary:
Future Generations: A Global Learning Community
Traci Hickson's research draws upon the theory of social constructivism to understand the process by which norms and ideas emerge within an organizational context and to present practical models for Future Generations, an NGO that is struggling to internalize a norm it seeks to promote. Non-governmental organizations work to promote issues such as global climate change, poverty, and human rights, on the premise that the promotion of ideas as well as the successful demonstration of new ideas and methods will impact social change on a global scale. Due to the increasing criticism associated with NGOs due to claims of not following the philosophy that they promote, Hickson decided to examine how NGOs internalize, practice, and diffuse the norms that they seek to influence. The paper is organized into three models that provide methods for internalizing and diffusing ideas and norms within an organizational context. These three models, epistemic, communities of practice, and learning organizations, are evaluated to identify principles and collaborative learning and sharing that could benefit Future Generations. In conclusion, Hickson puts forth a proposal of how Future Generations can internalize and diffuse the norm of collaborative learning and sharing within its own organizational context which highlights the importance of an organizational dialogue focused on what it means to be part of a global learning community and what value this is to the organization, its staff, and partners. In order to do this, Future Generations needs to commit itself to engaging in a global dialogue to achieve the community "walking forward together."
Practicum Summary:
Research on why youths are sacrificing their lives and committing suicide for militants: a study on the influence of culture, location, and economy on their decisions
Popal Habibi's research identifies the comparative factors that motivate youths to join militant groups in Afghanistan. Research was collected by interviewing 38 individuals including youths who returned from militant groups, their family members, community members, and members from rule of law agencies. Also, two case studies discuss the recruitment stories of two youth who returned from militant groups. The research shows that militants are developing their own recruitment plans based on community context, ethics, and personal interests of the youth. Unintentionally, youths have fought for the personal interest of groups, countries, or leaders for decades. In the Nagrahar and Parwan provinces of Afghanistan, the majority of youths interviewed were motivated by wrong religious information, poverty, family conflict or unemployment, as well as in some cases, gaps between the government and local people as a result of a weak government. Another factor includes the government's inability to provide basic services to the community, resulting in mistrust in the government as well as desire to join militant groups for economic and security reasons. A lack of accurate information on the motivation factors associated with recruiting youth creates problems and confusion in the policy design for constructing counter-narratives and interrupting the youth recruiting processes. In his findings, Popal determined that the militant's recruitment process is different for each individual, taking into consideration ethnicity, education, interest, culture, and age. In order to prevent militant recruitment in the future, Popal recommends creating sessional workshops and seminars in government peace and stability programs on relevant contextual subjects revising the Afghanistan Peace and Reintegration Program for those who are returning to a peaceful life in a secure place after being involved in a militant group, strengthening the rule of and justice system, and identifying what youths are specifically looking for and providing them with a desirable alternative.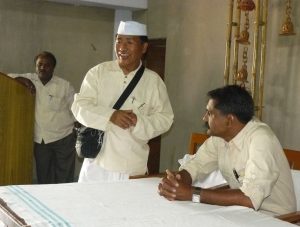 Practicum Summary:
Community Voice in a Multi-Stakeholder Decision Making Process for a Proposed Health Clinic Project in Horminguero, Siuna, Nicaragua
Meaghan's study focused on the community of Hormiguero in Siuna, Nicaragua and examined the local Collaborative Health Care Clinic Casa Materna's role in complex multi-stakeholder processes. Through various tools such as observations, consultations, semi-structured interviews, Meaghan analyzed the participation of stakeholders that live in the USA, Siuna, and the community of Hormiguero. She found that although stakeholders with power, such as NGOs, government officials, and businesses, may consult communities on their needs, these organizations who have funding and therefore power, often fail to involve community members in decision-making processes. Meaghan points out that communities are best positioned to determine how their community functions or does not function, their history, and how to achieve goals together. In her conclusion, Meaghan discusses the importance of the three-way partnership and the interplay of different sets of power characteristics that each player contributes to the success of a project, and how these partners can better serve the needs of the community through effective collaboration.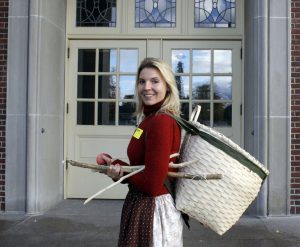 Practicum Summary:
Genograms to Resources: Wilderness therapy and family dyanmics of at-risk youth
Bethany's research practicum examines family dynamics of male at-risk adolescents in a New York wilderness therapy program through the creation of genograms. A genogram is created with simple symbols representing gender and lines to illustrate family relationships, which are color-coded with a provided key. In her study, Bethany uses her personal experience as a wilderness therapy guide to interview clients about their family situations, although she changed the names of clients to protect their confidentiality. From the genograms created by participants and follow-up interviews, she found that the overarching characteristics of adolescents considered "at-risk" include the absence of a father figure, a weakened family structure, learning disabilities such as ADHD, lack of self-confidence, academic troubles, overcompensation by mothers, and drug use. The absence of a father in an adolescent's daily life is often caused by overworking, divorce, and death. Additionally, Bethany found that adopted children often struggle in understanding their situation, and in return develop unproductive coping habits. In order to improve the effectiveness of wilderness therapy programs in the United States, Bethany suggests eliminating unwilling escort services, taking on a more holistic family healing approach, and allowing participants to come to their program on their own, as a mutual decision between the parent and child.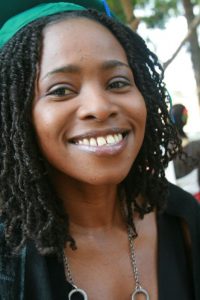 Practicum Summary:
Root Causes of Youth Violence in Sophia, Guyana
Shondell's research seeks to identify the impacts of youth violence in Guyana and the communities that are perceived as hot spots for violent activity in order to develop interventions to redirect youth energy towards positive community development. Shondell focused her study on the community of Sophia, specifically the Pattensen and Turkeyen areas located east of Sophia. Out of the 35,000 residents of Sophia, roughly 16,000 of them are youth. For the purpose of this study, Shondell refers to the WHO definition of youth violence, which defines it as "the intentional use of physical force or power, threatened or actual, exerted by or against children, adolescents or youth adults, ages 13-29, which results in or has a high likelihood of resulting in injury, death, psychological harm, mal-development, or deprivation." Common problems in the community that contribute to youth violence include youth idleness, unemployment, a high school dropout rate, teen pregnancy, and theft, accompanied by illiteracy and high incidences of poverty. Shondell used focus group discussions, key informant interviews, youth surveys, and documents to create an evaluation of the youth violence condition in Sophia. From her data collection, it was determined that having family or friends involved in violence, police labeling, and poverty were the three main contributors to violence in Sophia. Other factors attributed to violence include boredom, family problems, lack of activities, school problems, gangs, and a need for respect. In order to protect youth from violence, Shondell mentions the incorporation of conflict resolution and critical thinking skills into education, as well as promoting interventions in schools, community groups, clubs, faith-based organizations, and other peer groups that could persuade youth away from violence activity.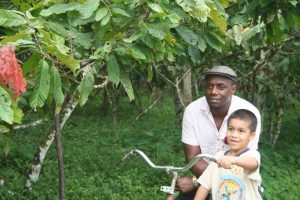 Practicum Summary:
Youth Empowerment: Assessing and Addressing the Lack of Agency and Empowerment experienced by youth participants of Buxton/Friendship North
Travis's research focuses on developing capacity and increasing youth empowerment and agency in the community and to encourage local capacity building in the community of Buxton Friendship in Guyana. In 2002, Buxton Friendship experienced an infamous jailbreak which catapulted the country into an unprecedented crime wave. The community became policed by criminals, and those communicating information with outsiders were executed. These events completely dismantled and disempowered the community. In his research, Travis explores youth empowerment and local development by implementing a pilot program with 15 to 25 youth in the community, which he hopes to expand to neighboring communities and eventually, country-wide.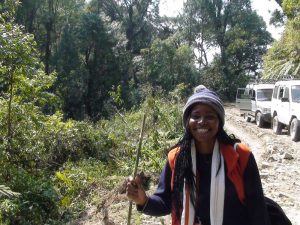 Practicum Summary:
HIV/AIDS and Dependency in Guyana
Shellon's study was undertaken by Agape Network Inc., a faith-based NGO located in the community of Sophia, Guyana. Agape focuses on reducing the prevalence of HIV/AIDS and offers hope to People Living with HIV/AIDS through program activities that benefit Orphan and Vulnerable children, youth, and adults, such as leadership skills training and capacity building initiatives. The overall objectives of the study include determining the degree of dependence of People Living with HIV/AIDS (PLWHA) on Agape Inc.'s programs, and generating useful data that will serve as a new foundation for designing new program interventions that work toward the goal of having PLWHA become self-reliant. Using interviewing techniques, Shellon concluded that even though people have benefited from capacity building and skills trainings, they continue to be dependent on Agape Inc. programs. She recommends a continuation of the skill training program and providing financial assets and other capital to start up a business after completing the training.
Practicum Summary:
People to People Peacebuilding in Karamoja, Uganda: A case study of inter-ethnic dialogies in Moroto and Napak districts
Brenda's study examines how effective people to people approaches have been in bringing representatives of conflicting groups together in Karamoja to interact in a safe space with the ultimate goal of peace building. The study focuses on interethnic dialogue in the Moroto and Napak districts of Karamoja and investigates the opportunities and considerations for enhancing the efficiency and impact of these interventions. The underlying causes of conflict in Karamoja include cattle raiding, the forging of alliances between clans to take advantage of other clans, and colonial and government policies that exploited or marginalized the sub-region for decades and thus hindered the region's opportunities for growth and development. By employing qualitative data collection methods, Brenda discovered that 98% of community respondents and 94% of key informants agree that dialogue has contributed to safety, security, and peace in Karamoja. In the past three to four years, the development related issues have been increasingly featured during dialogues, encouraged by shared visions for conflict resolution, prevention, and joint decision making. In order to improve people to people practices, Brenda recommends involving women and youth to expand the likelihood of durable change at the individual and community level. In addition, various stakeholders need to become more aware of conflict and matching conflict analyses with the appropriate interventions. She points out that stakeholders could rush dialogue plans to fit within their work plans and politicians run the risk of exploiting dialogue for their political pursuits. Involving representatives from every sector of the community can help prevent exploitation. Documenting dialogues, building sustainability, involving soothsayers, and transitioning from a military-led law enforcement to civilian-led enforcement are additional recommendations to ensure the success of peace to peace conflict resolution in the years to come.
Practicum Summary:
A Case Study of Hope Corner Voluntary Group in Lhasa, Tibet
Through gathering information from its members and participants, Tsering Digi explores the way that the organization Hope Corner, of which she is a founding member, can better promote positive social change within the community of Lhasa in Tibet Autonomous Region of China. This research also seeks to evaluate the impact of Hope Corner's activities on young children and adults in the community of Lhasa, which is not only a holy place for Tibetan Buddhists, but also an important cultural and economic center in Tibet. This study addresses the problems associated with rapid economic development, including a widening gap between rich and the poor, the increased importance of material goods, alcoholism, gambling, computer game addiction, and a disregard of traditional moral standards. During the past several years, Hope Corner Voluntary Group established six regular activities to respond to the need to build trust, consciousness, identity, and knowledge through different forms of communication: English Corner, Tutoring for Community Children, Language Exchange, Scholarship, Mentoring Program, and Social Welfare Projects. Tsering recommends that Hope Corner recruit more stable volunteers to maintain current activities and initiate new activities and seek recognition from the government to increase the possibility of receiving more funding to create programs that meet the needs of the community. In addition, Tsering acknowledges the need for a more effective administration, which can be established by distributing tasks and improve record keeping. Other improvements that can be made include forming partnerships with local organizations, creating marketing materials to promote awareness of Hope Corner, and holding sessions at English Corner to collect the thoughts and ideas of community members.
Practicum Summary:
Human Trafficking in Nepal
Santosh's practicum focuses on human trafficking in Nepal, which was started by the Rana regime when they began bringing girls from neighboring districts and Kathmandu valley for sexual exploitation as domestic workers. Gradually, this exploitation has expanded to include internal, cross-border, and international levels of trafficking, with trends shifting from forced prostitution to organ transplantation. To collect information, Santosh used participatory tools such as questionnaires and interviews to identify the community attitudes regarding human trafficking victims of 24 respondents from the Bhaise Village Development Committee in the Makwanpur District. Santosh's primary objective was to discover the details of trafficking in the region, and to identify the underlying causes of the practice. The study found that human trafficking occurred due to the lack of employment opportunities and resulting low incomes, which make it difficult, specifically for women and children, to live a comfortable life. It was also discovered that the traffickers are primarily relatives of those being exploited, even their immediate family members. Other contributing factors to trafficking include infertile land, lack of education, and poor irrigation, leading to limited income opportunities and a limited food supply. Thousands of women and children are trafficked to India each year, which serves as either a destination for those seeking prostitution, or a transit route for trafficking in the Gulf States and South-East Asia. In order to reduce instances of human trafficking, Santosh recommends educating foreign governments on the situation, and providing income generating activities for vulnerable community members.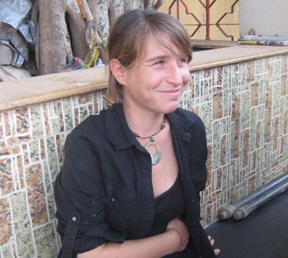 Practicum Summary:
Climate change adaptation policies and its application at the empirical level: Gap analysis from the community perspective in Nepal
Pradeep's research practicum is focused on the effects of climate change in Nepal, and the adaptive policies in place to prepare for resulting environmental challenges. Pradeep states that developing countries like Nepal are at a greater disadvantage than developed countries in the face of climate change, due to their limited resources, knowledge gap, and lack of institutional capacity. Agricultural communities at the local level in Nepal are particularly vulnerable to the unexpected changes in the natural climatic system which is disrupting their ability to earn a living. Although national policy has been developed related to climate change in Nepal, most local districts are unaware of these policies or do not know how to adapt them to their current administration, creating a gap between policy and actual implementation. In order to determine better ways to effectively implement policy on the local level, Pradeep conducted a research study in the districts of Kailali, Bardiya, Banke and Chitwan by collection information through focus group discussions, questionnaires, and participatory observation. In order to improve Nepal's climate policies and implementation practices, Pradeep recommends providing additional training for local, community-based and civil society organizations to build capacity for policy implementation, and creating a climate adaptation fund to strengthen the resources of future programs.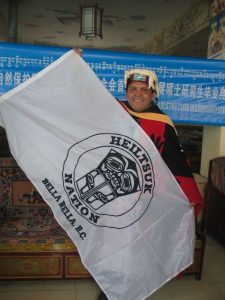 Practicum Summary:
For Our Children's Tomorrow
In this practicum study, Kelly Brown discusses the Heiltsuk National Land Use Plan and the Bella Bella Fish Plant Business, two initiatives undertaken by the Heiltsuk Nation in British Columbia to empower the local community to take ownership of the regulation of their natural resources and development. Using SEED-SCALE methodology, Brown addresses the challenges faced in her community, including post colonialism, economic development, and engaging the community. She concludes that in order for the Heiltsuk people to begin progressing as a healthy sustained community, they must stay focused on sustaining their health and economy by following through with the Heiltsuk National Land Use Plan and Bella Bella Fish Plant Business. This includes identifying proper experts to implement the plans and proper government officials to work with. Brown believes that the Heiltsuk people will achieve a sustainable community model if the aforementioned recommendations are addressed.
Practicum Summary:
Irish Potato Production in Kisoro District of Uganda
Using field surveys and a desk review of materials gathered from various departments at the Kisoro District Local government, Joy created a socioeconomic analysis of the use of inorganic fertilizers and chemical sprays as opposed to organic practices in the production of Irish potatoes in the Kisoro District of southwestern Uganda, a region with one of the last developed economies in the country. Joy asks key questions in her assessment, including what are the perceived benefits and barriers to adopting organic product of Irish potatoes by farmers in the Kisoro District and what kind of inorganic fertilizers and sprays are they actually using– and what are their effects? Her studies concluded that better farming systems for Kisoro would include rotational farming, mixed farming, organic farming, and fallow system. However, these farming practices require large plots of land, which is not feasible for all smallholders due to the high population density per square mile. Joy recommends instituting demographic controls through the Ugandan Government to ease pressure on natural resources, especially land and forests. She highlights the direct correlation between the use of natural resources and economic health in Uganda, pointing out that careful management and long term planning can lead to increased agricultural and forestry productivity.
Practicum Summary:
Housing and Women's Empowerment: A case study of the Hinterland Housing Pilot Project in Guyana
Donell's study examines the role of Amerindian women in the Hinterland housing pilot project in Guyana. The primary objective of this project was to address the housing needs of 9 communities in regions 1 and 9 of Guyana by disbursing subsidies for the construction of complete houses or new zinc roofs and rain water harvesting systems. Donell's research analyzes whether the housing project had any impact on gender equality and women's empowerment, and seeks to influence the National Housing Policy regarding interventions for marginalized groups. The study found that now that the basic needs of adequate shelter and water resources had been met, women who participated in the pilot expressed aspirations and had even taken action to pursue other needs in their lives. At the household level, women desire further improvements in housing conditions and increased income generations. At the community level, women would like to see infrastructural development, increased educational and economic opportunities, and a more important role in community leadership. Overall, the active participation of women in the housing project was integral to the project's success, which initiated a shift in women's perceptions of their own capabilities and control over resources and their own lives. For the future Donell recommends the creation of gender sensitive program development to encourage female participation in projects, with institutional means to measure progress.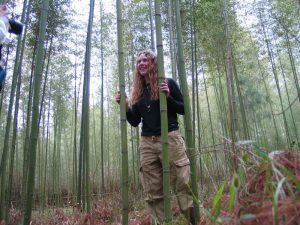 Practicum Summary:
Primary Health Care in Cabin Creek: A Proposal for Community-Based Change and Empowerment
In her research practicum, Shannon Bell outlines a compelling case for a Primary Health Care model for Cabin Creek, WV, where she has worked for several years. Bell argues that in order to address the overarching health problem in poverty-stricken communities is to unlearn traditional, preventative methods of addressing health care and to adopt in place a system that addresses the physical, environmental, cultural, economic, political, and social health of the community as a whole. Cabin Creek, which was once a bustling coal mining town with a population of over 100,000 that relied on subsistence farming, is today characterized by its high teenage pregnancy rate, an employment rate higher than the state average, and a sedentary lifestyle which contributes to reoccurring health problems such as diabetes and heart disease. Due to a lack of economic prosperity, unaddressed environmental health issues, and a generally disempowered community, Cabin Creek's residents suffer from high rates of depression and poor health care. Bell believes that by using the SEED-SCALE model in which you build on a community's successes, the Primary Health Care model can be introduced by progressive actors in the community who are currently involved with community development and improvement projects.
Practicum Summary:
Youth Radicalization: Second generation Somali youth and support for Al-Shabaab in the U.S.
Telile's research focuses on the radicalization among second-generation immigrant youth in Western countries, the terrorism group Al-Shabaab's relationship with the Somali Community in the U.S., and existing strategies used to counter the recruitment of youth in the U.S. into Al-Shabaab. Telile points out that second generation radicalized groups most likely have a normal life and little if any criminal history, but are often subject to discrimination due to their Muslim faith and ethnicity. In result, these radicalized youths feel alienated from their societies and develop a hatred for the West in return. Telile discusses the challenges Somali youth face in creating their identities in the U.S., the sense of isolation many Somali-Americans feel, and how these sentiments contribute to radical Somali nationalism that drives support for Al-Shabaab in the U.S. From this research, Telile concludes that Somali nationalism and a need for identity, more than religious fanaticism, leads Somali youth to participate in terrorist groups. In order to prevent radicalization, Telile recommends the U.S. government gain a broader understanding of the culture of Somali youth and the challenges they face in the U.S., and to develop leadership opportunities for Somali youth to serve as agents of peace through community organizing. These initiatives could give Somali youth motivation to be involved in the development of their country and a sense of identity and purpose in their lives that they so greatly need to avoid radicalization.
Practicum Summary:
Street Children in Kabul City, Afghan Children After Decades of War: Challenges and Opportunities
Farid's study examines the situation of street children in Kabul City and seeks to understand the reasons behind child labor in urban areas in Afghanistan. The purpose of this research is to advocate for street children through the Afghan Voluntary Network and the Child Protection Action Network. Three decades of civil war in Afghanistan carried heavy consequences; often children lost their parents in conflict or one of them became disabled. In result, children often abandoned education to help support their families by working. Under Taliban rule, women are not permitted to work, so male children and adolescents must enter the work force as the head of household. According to the National Risk and Vulnerability Assessment conducted in 2007, roughly 1.9 million children, 21% percent of 6-17 year olds, are child laborers in Afghanistan. Using a qualitative approach, Farid conducted focus group discussions, semi-structured questionnaires, informal conversations, and observations to collect his data. Through his data analysis, Farid discovered the main causes of child street labor are poverty, addiction to opium, displacement, unemployment, a war affected family, and a family with a disabled head of household. He also highlights the negative effects of short term, donor-driven projects conducted by NGOs such as overlapping work, lack of expertise in the field, and a failure to recognize the needs of children. In order to ameliorate the situation, Farid recommends that the Afghan government provide educational and economic opportunities for street children, promote child advocacy through volunteerism, collect accurate data about the needs of street children through the government, and develop a plan to fight opium addiction.
Practicum Summary:
Primary EduCare: Toward a New Model of Education in Detroit
In Yamini's research initiative, she examines two related topics: a two-year community-based study undertaken by the Detroit Summer Collective to equip youth to speak out on the causes of the "drop-out crisis" affecting Detroit Public Schools, and an heuristic inquiry about the Education in Human Values model as a potential solution to the problems identified in Detroit schools. Nearly 80% of Detroit's high school students fail to graduate, and 40% of students voluntarily drop out of school. Yamini's theory of change states that Detroit youth must be meaningfully engaged in the search for solutions for change to occur, and the long overdue repurposing of schooling must include human-values development as a basic function of schools. This study addresses the causes and solutions to the drop-out crisis, as identified and experienced by Detroit youth. Using a Live Arts Media Project, the Detroit Summer Collective discovered the three major causes that Detroit youth attributed to the drop out crisis: 1) a perceived lack of respect among students and between students and teachers, 2) a prevent practice of criminalization of students at schools, and 3) a perceived lack of relevance between the subjects taught at school and the skills needed for daily life. LAMP students offered solutions, including the mandatory implementation of school-wide respected curricula, implementation of restorative justice practices, and programs aimed at teaching youth to employ academic skills toward real world problem solving.
Practicum Summary:
Women's Participation in Elections: Why Women don't Actively Participate in Elections in Helmand
Yasar's practicum study examines why the participation of women in elections remains low in the Helmand region in southern Afghanistan, particularly in the 2014 election as it was heralded for its high turnout of voters of which 35% overall were women. To explain why this statistic provides an incomplete picture, Yasar conducted interviews with women from different sectors in the Helmand region and later completed statistical analysis of the results for greater comprehension. Yasar found that the reasons for low participation largely stemmed from lack of awareness of the rights and responsibilities of women regarding elections, as well as security concerns for the women travelling to the polling centers, which themselves are an issue as they are sparsely located in regions such as Helmand. Several diverse solutions were presented, ranging from an increased presence of female polling center workers to enhance safety and combat corrupt officials forcing women voters to vote for a particular candidate, to cooperation with respected centers of information such as schools and mosques to educate citizens about this issue. More large scale recommendations are for the Departments of Education, Justice, and Religion to collaborate and take responsibility for awareness and corruption. Yasar moves that addressing these issues being experience by the marginalized members of its society is the way to a sustainable social change in Afghanistan.