Monitoring Nature
A Different Way to do Research
Research at Future Generations is applied—this means it benefits people and is done in partnership. Communities are neither targets of research nor free labor used by the research. Their people jointly carry out the research, and they are the context to which maturing knowledge returns.
Biomeridians
Earth's climate is changing—this is known. But, below the global level, what is not known is understanding how life is locally changing. The university is setting up a global network of biological monitoring programs addressing these needs. These are called biomeridians and give a way to monitor change in nature's life balances. Future Generations University has an extensive history in large environmental action through community engagement and equips local communities to advance this research.
Using biomeridians on selected mountain slopes, it is possible to measure changes in the natural world. As with climate change, established relationships of plants and animals are changing. Some species disappear, invasive species enter, and the balance of plants and animals will shift with rising temperatures. This research tracks how species are migrating to higher elevations or further from the equator with rising Earth temperatures. Read more
Birds of Bolivia Field Guide
Sebastian Herzog, Ph.D., demonstrates this as he rides his horse out of a swamp. He has been studying Bolivia's birds, data about the 1399 species in that country, then shares this in a bird guide—the first birding manual in the country. The result is people understand Bolivia's birds and, by extension, one of the most diverse ecologies in the world.

Birds of Bolivia (English Edition, co-published by Future Generations University Press and Asociacion Armonia. The Spanish edition is published by Asociacion Armonia alone.) Future Generations has similar research underway in other countries in maternal health, women's empowerment, economic development, conservation, peace, the whole complexity of local life. Two dozen University faculty today engage in community-centered study. Their scholarship is used by people, and it is published in scholarly journals.
Artificial Intelligence Tools to Monitor Climate Change
Nature is talking. Using tools from Artificial Intelligence we are beginning to understand what birds, amphibians, and insects are saying. Future Generations bioacoustics research, using such tools, equips policy makers and communities to inform their decisions about a changing climate. Using hard science, Future Generations researchers look for patterns in terabytes of sound data. Recordings of birds, insects, amphibians, and mammals small and large are buttressed by photographs, plus temperature, humidity and vegetation surveys. Analyzing all this data, understanding grows of ecosystem variation—the role of sound, though, has been consciousness opening.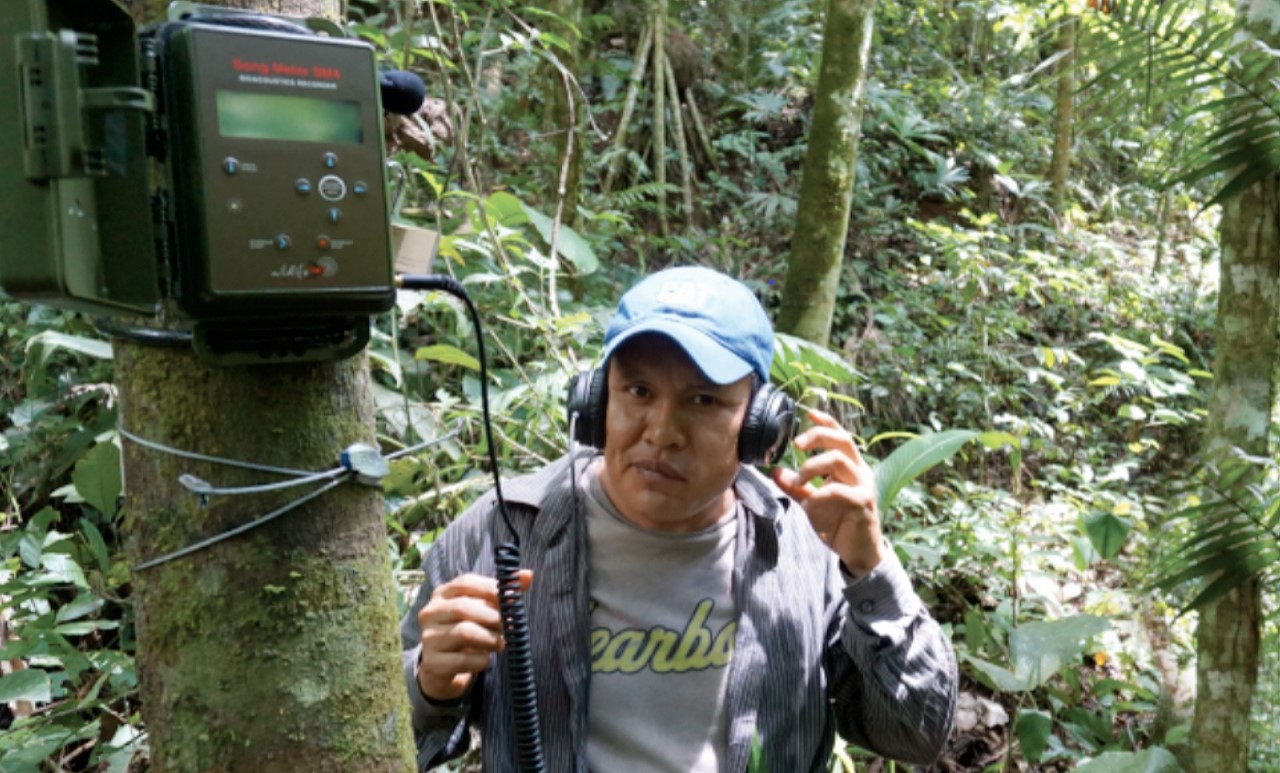 Listening to and recording nature, however, is one part of this Future Generations project, Songs of Adaptation (www.SongsOfAdaptation.org). A second part is listening to the people who live close to nature. In their stories are legacies of life, locally outlining what Nature has meant to them. Each community feels this multiplicity—every community our researchers work with has its narratives of how this has come to them. As Nature changes with the Anthropocene, this research is also attending to what the people closest to the change have been saying.
In Bolivia, researchers collect data adjacent to and inside Madidi National Park, the most biodiverse park in the world. Madidi spans from tropical Amazon jungle to the snow-clad Andes. The partnership crosses conservation stakeholders, communities, and bird-tourism businesses.
In Nepal, the project operates in a valley descending off the eastern massif of Mount Everest to biological tropics. This is in a national park Future Generations personnel initiated. People at the edge of this valley take care of the bioacoustic monitors. And, to benefit them, leaders of the communities are trained in SEED-SCALE to evolve life quality for their villages.
In the USA, the ends of the Potomac River are being monitored—from the highest point on the river, with a monitor outside Washington D.C., to sites on the Chesapeake Bay. Partners for this project are experiential educators.
Another project site is in the upper Nile Valley in Uganda, partnering with local communities and government.
A Parnership in Arunachal Pradesh
Arunachal Pradesh (India's northeast state) is an example of Big Community with 123 sub-tribal communities. Future Generations is the only international group permitted to work there. In protecting their environment, Arunachal Pradesh has more jungle than any other state in India; 77% of the state's area. Jungles span from lowland tropics to Himalayan snows, a habitat wealth that ranks it as one of the 25 biodiversity hotspots on Earth. Ngunu Ziro is a community organization that came out of the statewide work of Future Generations Arunachal. Their tribe, the Apatani, has century old practices of conservation and development. One example is sustainable blue pine cultivation with a two-century legacy. Rice cultivation is another example where young fish are placed in the paddies when flooded for rice germination. Fish waste fertilizes the sprouting rice, allowing rice to grow quickly at some of the highest elevations in the world.
In their jungles lives the clouded leopard, the rarest of the world's great cats. Future Generations partnered with Apatani hunters to photograph this elusive leopard. Camera traps were set through the jungle. After months of learning the leopard's ways, the team captured it. The full story appeared in National Geographic Magazine (September 2000).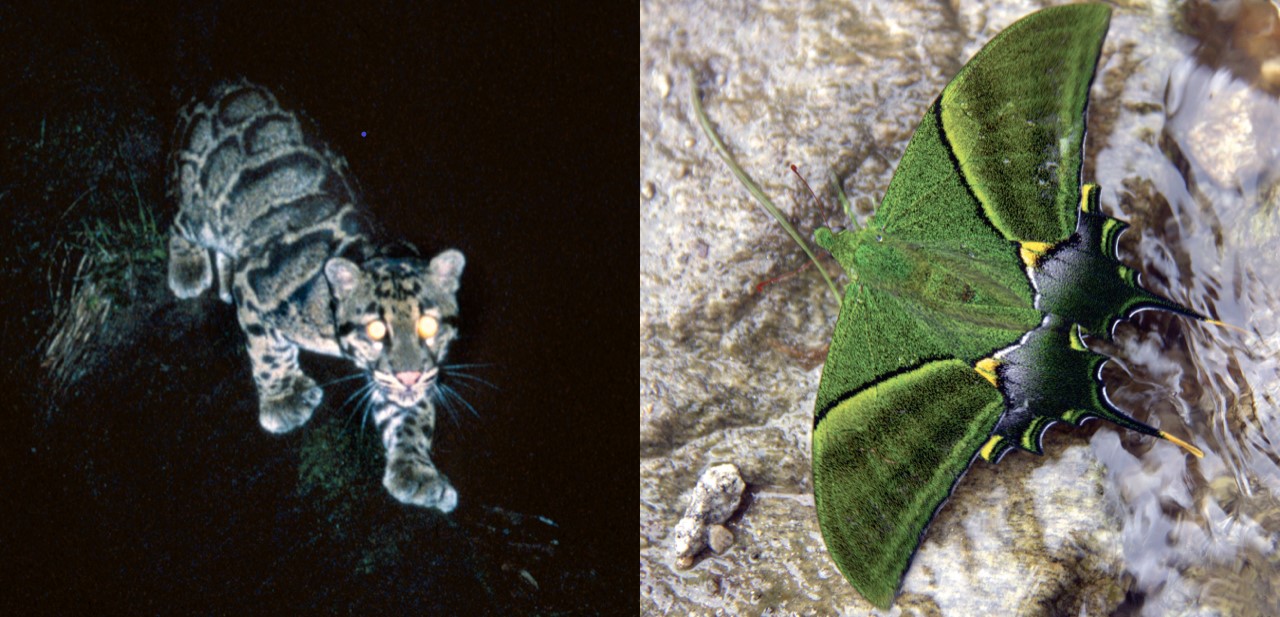 Following "discovering" this most elusive leopard, a local organization formed to advance conservation and community. This is Ngunu Ziro. Leopards are difficult to get close to. Barbequed rats, the tribal delicacy, are not popular outside the tribe's special tastes. But butterflies are abundant. So, Ngunu Ziro started a butterfly festival, rediscovering the Kaiser-i-Hind (Emperor of India), a dinner-plate-sized, radiantly emerald, fast-flying giant of the tree-tops.