By Professor Robert Fleming
I am the albatross that waits for you
at the end of the world.
I am the forgotten souls of dead mariners
who passed Cape Horn
from all the oceans of the earth.
But they did not die
in the furious waves.
Today they sail on my wings
toward eternity,
in the last crack
of Antarctic winds.
– Sara Vial
A  world of wind, waves, and swirling spray is home to the albatrosses of the Southern Ocean, the birds a fitting symbol for the spirits of the many mariners who have perished attempting to sail around Cape Horn (Cabo de Hornos) at the tip of South America.  These roiling seas hostmany oceanic birds including petrels, skuas, and shearwaters, but the primier species are albatrosses, their seemingly effortless flight beautifully adapted to the circumpolar winds that continuously blow east between 40 degrees and 60 degrees south latitude. Beneath the ocean's surface, the Antarctic Circumpolar Current also circles east, little impeded by any land mass except where it has to squeeze through the 800km-wide Drake Passage between the Antarctic Peninsula and South America.
Of the 22 species of albatrosses in the world, 18 live here in the south, with many of the birds staying at sea for most of their lives and coming to land only to nest. For example, once a Wandering Albatross, with long, narrow wings that may reach up to 3.5m/11.6ft from tip to tip, has left its natal island the bird may spend four or five years at sea before again touching land. And much of this time is spent aloft, riding the wind currents while occasionally diving down to snatch a morsel from the oceans surface.
Albatosses have an elbow-locking mechanism, which, when combined with an acute neuro-muscular system finely tuned to air pressures, allows them to  stay aloft for long periods with very little effort.  Foreward movement is generated through a pattern of 'dynamic soaring', alternatively facing into the wind to gain height and then turning with the wind and diving back to near surface level, skimming the waves while constantly making adjustments with their long wings.  It is reported that the birds can even sleep while aloft, and some individuals fitted with monitors have been recorded to cover over 64,000km/40,000mi in a year, circling the globe in less than 50 days.
One might think of the Southern Ocean as a region mostly devoid of human activity. Far from it, and  as a consequence, most albatrosses are now on the list of threatened species, with seventeen species possibly facing extinction. This dire predicament is due to multiple reasons, none of which involve hunting or running into ships when asleep. A primary problem is that they become entangled in long-line fishing operations. An albatross diet consists mostly of squid and fish, and if a bird sees potential food caught on a long line, they may dive down and themselves become entangled.   Another factor is inadvertant ingestion of flotsam leading to a gut choked with plastic. And yet a third threat is reduced food availablity due to the overharvesting of krill on which fish feed. And on some islands a fourth factor is predation at nests by introduced rodents, especially mice, which pounce on nestlngs and even attack brooding adults. All these problems are being addressed though a Global Seabird Programme and several similar efforts. We can only hope it is not too late.
When standing on the deck of a vessel plowing northward through the choppy waters of the Drake Passage, all the while braced against the wind and the rolling and pitching deck, the view is of an endless expanse of white-capped waves, their tops blown east into long, delicate wisps, and with the occasional albatross or petrel effortlessly passing by.  However, upon nearing 56 degrees S, the seas on the northern horizon are interrupted by a squat, triangular speck – a first sighting of Cabos de Hornos, or the island of Cape Horn.  From this distance, the Cape, as seen through binoculars, appears to be an imposing outcrop of bare rock with sheer cliffs fronting the south. However, on edging closer, a distinct greenish flush outlines the ridge tops, indicating that despite continuous winds, considerable cloud cover, and occasional fierce storms, the island is home to a variety of low-growing plants.
Bioacoustics in Bolivia
My name is Shane Palkovitz. I am a socioenvironmental specialist for the Songs of Adaptation research project at Future Generations University. The core investigations of this project focus on establishing an international baseline for biodiversity, while at the same time gathering knowledge from community members about human adaptation to climate change.
In March, I had the joy of traveling to Bolivia to work with local partners to establish a new research location. Our goal was to install four monitoring stations that will later serve as the beginning point for a larger research project.
We spent the first few days trekking through the jungle, looking for sites and gathering information before installing instrumentation. Pictured below, Alejo follows as other team members venture up a stream bed on El Chocolatal, an eco-resort.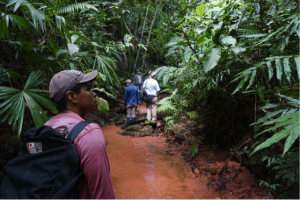 Sweet Opportunities for West Virginia
By Karen Milnes
Everybody knows about Vermont maple syrup, and it's time to put West Virginia on the map. With an estimated 0.04% (USDA—NASS) of the state's tappable maples in production, there's a lot of room for growth. And if this industry is doing anything, it is growing. And fast. According to a survey conducted by the Appalachian program at Future Generations, the number one component in helping our state's maple industry expand is the need for more sap from more taps.
With ongoing innovations in the sap to syrup process, a growing number of West Virginia producers are capable of processing a lot more sap than they can obtain. Backyard syrup making is not only a mountain tradition in these parts, it's a growing hobby as the farm and food movement sweeps across our nation. The Sweet Opportunites: Tapping West Virginia's Maple Resource project at Future Generations University aims to start networking sap collectors and syrup producers, setting up a "hub" model, already popular in more established maple syrup producing states. What's nice about this model is that it allows, for fairly minimal overhead, just about any landowner with maples on their property and a maple syrup producer nearby, to break into the industry with little risk. Oftentimes, sap collectors simply selling their raw sap are able to pay off the collection equipment in the first year. In a relatively short time, they can begin scaling up their operations and considering purchasing larger equipment to begin producing their own syrup.
Inspiration in India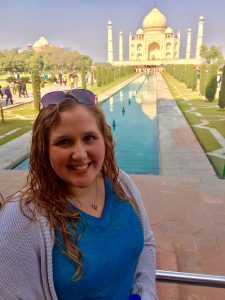 Our Learning Management Coordinator, Paula Smith, attended our field-based course in India in January. See what she has to say about the experience!
Why did you attend this field-based course on the Gandhian Method?
 I was thrilled to have the opportunity to attend the Gandhi course in India. I work with the Future Generations certificate program, so I've helped to plan and manage this course in years past, but it was such a rewarding experience to be there in person and see all the hard work come together for a great learning experience. It helped to give me insight on how to coordinate the student experience even better going forward.
Making Maple Syrup in WV
By Mark Lambert
If you would've told me at this time last year that I, my wife, and our business partners would not only be producing, but delivering West Virginia Pure Maple Syrup across the state, I would've had to "lol." Literally. Not just in a text or an email.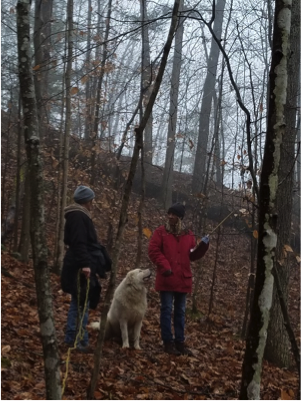 With the help of Future Generations Maple Sap Collecting and Syrup Processing certificate program, we've gone from wondering what our next step in the foodservice and transportation business world might be to learning how to collect sap on a commercial level. More than this, we've learned how to process that sap into syrup, label and bottle it for retail, and distribute not only our own finished product, but also other producers' syrup, to retailers all over the state of West Virginia.