Summary from Just and Lasting Change  by Associate Professor, Noam Schimmel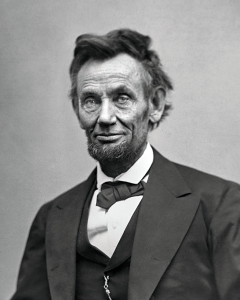 About Abraham Lincoln so much has been written it appears unlikely that there is more to say about him that might be new to readers. But, there is a part of Lincoln's legacy that is genuinely underexplored and not widely known and it merits attention.
Lincoln was committed to advancing human development in a young United States in a way that was deeply democratic, progressive, and marshalled human resources in innovative ways that were ground-breaking and far-reaching for his time. The legacies of the policies and programs he advanced remain as defining features of American life today, and he had an animating vision of unity in diversity that informed those policies and programs.
We take the holiday of Thanksgiving for granted; it has become one of the defining features of American cultural life. Whatever one's religion, ethnicity, politics, heritage – wherever one comes from – Thanksgiving is widely celebrated by a huge cross-section of Americans.
What many don't know is that we owe Thanksgiving to Lincoln, who set it aside as a holiday of thanks that he had the foresight to recognize would unite Americans despite their many divisions. To this day, it continues to do so and to bind Americans across boundaries of difference, both real and imagined, small and profound.
Advancing educational opportunity was a paramount concern for Lincoln. By the end of the Civil War, Daniel Taylor writes that all states except three had compulsory public education laws. The 1862 Land-Grant Colleges Act (the Morrill Act) had a major impact on expanding education in the United States and making it affordable and accessible to a wide cross-section of the American people. Low cost higher education now was opened to many Americans whereas in the past, it was primarily the wealthy who enjoyed educational opportunity because only they could afford the expensive costs of private university education.
Although it is of less significance today, to expand the opportunity of Americans to save their funds in banks and to have access to banking services, Lincoln's government empowered post offices to issue money orders. Taylor writes on the subject, "Money orders gave ordinary citizens a way to conduct financial transactions in another community, a move that especially helped rural people at a time when barter was still common."
Taylor observes that the significance of Lincoln's policies and philosophy of governance was dramatic and sustained and offers us lessons for successful governance and community development today that is genuinely empowering, emancipatory, and democratically grounded in values of equity, opportunity, and freedom to enable human development.
"Lincoln's initiatives strengthened the country by using the government to create a context that supported community action. He viewed government as a means of enabling ordinary people. He worked to create an environment in which communities could evolve their own solutions. He did not give gifts or initiate special services (actions that progressive today often promote.) Instead, he tried to transition toward making government a helpful force."
There were many other areas in which Lincoln expanded opportunity to Americans who had previously been limited in access to resources that would advance their freedoms and capabilities to develop.
He expanded opportunities for farmers by creating the Department of Agriculture which assisted farmers in expanding agricultural productivity and thus enhancing their income and improving food security for Americans.
Even the modern post office as we know it today owes much of its current character and the ease with which we can mail a letter and be assured of its delivery hundreds or several thousand miles away just a few days later in large part thanks to Lincoln.
His investments in expanding postal services, again – with awareness for how communication and connection advance human welfare and create vastly expanded social and economic opportunities – were fundamental to the postal services we are so used to and take no notice of as being anything out of the ordinary.
But, at one point, they were indeed an innovation and a fundamental change for the better.
So the next time we sit down for a Thanksgiving meal, send a letter to a friend or pay a bill the old-fashioned way, enjoy the fruits of the research and teaching of our nation's public universities, and take for granted and enjoy the bounties of our agricultural produce we can and should remind ourselves that much of what we benefit from today had its origins and its growth in the democratic vision and values of Abraham Lincoln.
His concern for using government to enhance opportunity for Americans to develop socially and economically and to enhance their well being both as individuals and as a society has left a transformative and positive legacy for all Americans today.
U.S. Series- Part I: The White Mountain Apache: Reclaiming Self-Determination
Summary from Just and Lasting Change  by Associate Professor, Noam Schimmel
An Example of SEED-SCALE in Arizona
Seed-Scale has been used by Native American communities to explore and assess their communal needs and resources and to advance development that stems from the community and reflects its needs and preferences.
The White Mountain Apache of Arizona have historically had mixed experiences of government neglect as well as government support, with government support often creating unsustainable relationships of dependency that undermined dignity and freedom.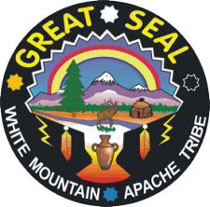 Daniel Taylor reflects upon the history and culture of the Apache of Cibecue Valley:
"The two thousand Apache of the Cibecue Valley, in eastern Arizona, are the most isolated members of the White Mountain tribe. A high percentage of the people still speak the Apache tongue, and they try to keep the older ways alive. Older residents tell of idyllic childhoods spent in the forests with deer and other wildlife as neighbors, when Cibecue Creek still abounded with trout and beaver. They tell of times when women spent their days collecting plants for food and medicines while men and children spent their days on horses. Young people are encouraged to learn traditional stories, dances, and handicrafts and to take an active part in rituals that strengthen tribal identity and values."
But this traditional way of life and its cultural integrity was aggressively disturbed over a century ago by the US federal government and its policies of ostensible 'development,' in ways that have had profoundly detrimental consequences for the community.
A top-down development model employed by the federal government led to decades of marginalization of the White Mountain Apache in their own communal development and resulting economic and social disadvantage that became structural and a defining feature of the community.
The Cibecue area remained little disturbed by outside intrusion until just after World War 1, when the US government came in with policies that changed both habitat and lifestyles. The first move was to sell grazing rights on Apache lands to non-Indians. The sale of too many permits resulted in severe overgrazing and extensive damage to the land. From the 1930s to the 1960s the government tried to turn the Apaches into cattle ranchers, worsening the damage. By the 1960s the adverse impact was clear, and the government decided to reengineer the landscape and, with it, the ecology.
This, too, was unsuccessful.
Less coercive federal government support for the White Mountain Apache that was prepared to share power and resources with the White Mountain Apache and to facilitate their ability to determine their own futures emerged in the 1990s. This followed many decades of inequality, underinvestment, indifference, and antagonism towards the rights, welfare, preferences, and cultural and communal integrity of the Apache community.
But after so many decades of federal government neglect and disregard, creating positive change was a struggle that entailed dismantling deeply embedded structural injustices and dysfunction in how the federal government interacted with the White Mountain Apache community.
Taylor writes:
"Few strategies to promote development have differed so starkly as those of the US government directed towards Americans of European origin and those directed toward Native American peoples: on the one hand, expansion of communications, education, health, transportation, and financial institutions; and on the other, confiscations of land, "assimilation" policies that involved removing children from their families and otherwise undermined traditional ways of life, and finally, "support" programs that promoted dependency instead of self-reliance. This latter history shows all too clearly how government actions that are controlling instead of enabling (even if well-intended) can do profound and lasting damage."
The development assistance that the Apache community had received until the 1990s had been largely one that was imposed upon them rather than a reflection of their participation and involvement in its conceptualization, coordination, and execution.
As Taylor expands:
"Top-down development assistance interferes with building community capacity – even when done unintentionally to compensate for earlier exploitation… Local people need to strengthen their own capacities if they are to become real partners with government and experts in setting and implementing their priorities. To do these things all three partners need a systematic, regularly updated process and a commitment to cooperate."
At the invitation of the community in 1996 – and partially as a result of the federal government finally becoming at least tentatively supportive of genuinely community-based programs of Native American community development – a study of the White Mountain Apache community was done by Taylor's team. It concluded that new data showed that chronic diseases in the community stemmed from social factors that might not be considered directly health related. For example: the breakdown in relations between elders and youth, the lack of communication between men and women, and the decline of family gardening. These problems could be corrected only by behavior change, not by new clinics.
While the community did have adequate acute care in the form of a clinic, chronic diseases were not being addressed because of a healthcare bias focused on treating disease rather than enabling and sustaining behavior change and prevention of illness and maximizing health and well being through healthy lifestyle choices and behaviors.
Taylor writes about the results of their research with the community, in the community:
:The interviews revealed that the dominant health problems arose not from infections but from a sedentary lifestyle largely promoted by government welfare programs, from consumption of high-fat, high-salt, sugary "white man's" food, and from easy access to alcohol. These health problems were very different from the ones being addressed by the good clinical treatment provided by the health center."
The extent and severity of these problems were serious and causing major morbidity and mortality.
According to tribal estimates, alcoholism affected 40-60 percent of the people; 43 percent of hospital admissions and 42 percent of deaths between ages twenty-one and seventy-four were alcohol-related. In a survey of students aged nine to eighteen about 30 percent reported weekly use of alcohol or drugs as well as alcohol and drug addiction among their parents.
Using Seed-Scale, the Apache community was able to assess major gaps in healthcare programming and to determine how to address them through health programs focused on behavior change, improved educational opportunity, fostering intergenerational relationships between youth and older community members, and creating public services that would benefit the entire community and foster positive connections within it. These included constructing a laundromat and building a swimming hole. In determining that these were two projects that the community prioritized, Seed-Scale enabled the community to go beyond traditional forms of community development.
"Both the Laundromat and the swimming hole would have brought important health benefits, but neither directly fitted with the expectations of the Indian Health Service, which had hired us only to find out whether it should enlarge its clinic building," Taylor writes. The Indian Health Service had already determined that the main health intervention was to be based upon acute care medial provision; Seed-Scale concluded otherwise and provided a necessary corrective to the Indian Health Service's assumptions that did not match communal needs, preferences, and interests.
In reflecting on Seed-Scale's impact on the development of the Apache community of Cibecue Valley, Taylor states:
"Today the Cibecue community of the White Mountain Apache is pursuing parallel pathways in education and healthcare to regain control over its own future. As a result of federal legislation over the past few decades, the tribal government is evolving increasingly effective community-based approaches in partnership with Washington and with independent experts of many sorts."
The shift is long overdue and a long time coming, but it has finally enabled the Apache to direct their own development and in so doing, to improve their quality of life both as individuals and as a community.
"Our recommendations required a new approach, one that did not fit comfortably with established government practices, which make it hard for crossover action to occur among health, education, and environmental sectors even when solid research has made linkages clear. The Indian Health Service did, however, expand the Cibecue Health Center by constructing an adjacent Wellness Center and providing more prevention services."
Taylor reflects that:
"When we began to work in Cibecue in 1996 we found that residents viewed the preceding decades of mostly well-intended actions as disrupting both to the environment and to the social fabric of Apache life. But the adverse outcomes were not all the government's fault; Apache leaders, themselves unsure about the best course to follow, had generally gone along with government recommendations. There had been no enabling partnership to systematically build local confidence and capacity. Almost all projects had been driven by government paperwork and funding rather than by community work plans and a balancing of resources."
It was Seed-Scale methods and principles that enabled the White Mountain Apache community to take control of their own communal development, and to ensure that it reflected their needs and desires and would enable genuine success at advancing health, well-being, and economic and social prosperity.
Rookie Producer's Take on the Southern Syrup Research Symposium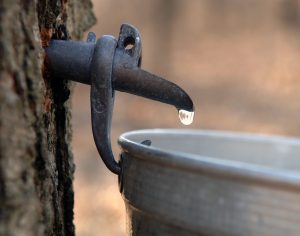 How many of you know about Future Generations University's maple syrup program?! Check out this blog by the West Virginia Maple Syrup Producer's Association's own Tina Barton and see what she had to say about the related symposium she attended!
Read here: https://wvmspa.org/2018/10/06/rookie-producers-take-on-the-southern-syrup-research-symposium/
Bending Bamboo
By Katie Larson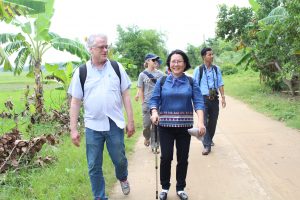 When do we learn about sustainable development?
How do we learn about sustainable development?
Who is this we that I keep mentioning?
Is sustainable development only a topic for development professionals?
Even if we learn about sustainable development as children, which children get access to the "juicy", life-changing content, produced by the United Nations, climate scientists, and development professionals?
If you speak English, you can easily access this "juicy" content. If you are confident in English, you can go further and sift through this content. If you have cultivated your critical thinking skills, you can go even further and compare the content you are reading with the reality of sustainable development in your context.[1] Think Bloom's Taxonomy. Then think about how English fluency fundamentally impacts who gets access to the knowledge critical for understanding and meaningfully supporting the health of our changing planet.
Now, what if you are not confident in English? Imagine that you can't sift through the many amazing resources available on sustainable development. Maybe the only content you can access is general information. You know what I mean, the information that explains that if we drive our cars less then we can stop the polar ice caps from melting and save polar bear habitats. Two very important issues to solve, yet, superficially examined and far from many people's day to day realities.
Those of us in the development sector know that sustainable development has many definitions and that its diverse definitions, applications, and manifestations are a result of complex contextual realities. Yes, sustainable development is certainly a concept to associate with solutions to climate change. However, sustainable development as a solution must be understood in context, in a way that values local economics, health, infrastructure, and all of the other important topics of the United Nations Sustainable Development Goals.
Here is where the study of language and the study of sustainable development are similar. According to the Communicative Approach in language learning, when learning how to communicate in another language, the learner's context matters. Imagine you are a 10th Grade student living in rural Vietnam with a high likelihood of never traveling outside of your country. You go to English class (a required subject) and open up your textbook (published in London) and scan the lesson. The lesson asks you to imagine you are discussing your recent trip to Piccadilly Square in London. What did you see? What did you eat? How were the British people? Now ask yourself, am I going to be engaged in learning how to communicate with this kind of content? Also ask yourself, will this lesson give me skills for a future career? Students who cannot link content to context and who see no relevance in learning about things they don't think will help them in the future, are not going to seek greater fluency in a foreign language. With content unconnected to context and irrelevant to the student's future, English language study becomes a tool only for those few students who think they will travel and/or find employment outside of Vietnam. But the truth is, English is a global language. It can be used in rural and urban Vietnam to connect people, business opportunities, science, and funding from around the world. It can also be used to foster international collaboration on sustainable development solutions for communities.
The process is the same with sustainable development knowledge acquisition. What if the content you access is tooooo unconnected to your context? What if you don't have the English skills to sift through the content? What if you don't have the critical thinking skills to compare and contrast content with context? Will your sustainable development education equip you to visualize sustainable development in your context? For many, the answer is no. Arctic ice problems are important. However, if they are presented as an isolated challenge, they will seem like frivolous topics of study for someone living in a tropical river delta…say the Mekong River Delta. And those of us fluent in sustainable development know just how connected the ice caps are to our oceans and the river deltas that neighbor oceans. With superficial sustainable development education, students exit school without understanding the ways in which their actions and future careers might help or hurt Earth's ecosystems.
Now, I have a BIG question regarding English fluency as a tool to access, sift through, and critically think about sustainable development. Can we drive English language acquisition while driving sustainable development knowledge acquisition?
This is a question that Bending Bamboo is trying to answer.
What is Bending Bamboo you might ask? Bending Bamboo is a process for acquiring intercultural, communicative, competence, confidence and collaboration (iC5) skills in English and sustainable development. Bending Bamboo does this by connecting English and sustainable development to context. It currently operates in Can Tho, Vietnam – the hub of the Mekong Delta. Over a two-year cycle of workshops and online forums, Mekong Delta teachers and professionals work together to acquire their own iC5 skills and then create a curriculum that teaches these iC5 skills to their students and employees. The first deliverable of this cycle is a teacher text. The next is a student text. Both incorporate local research on sustainable development in Vietnam and South East Asia. Both incorporate the knowledge of the teacher, farmer, tour guide, and corporate professional. They both seek to support English language and sustainable development knowledge acquisition.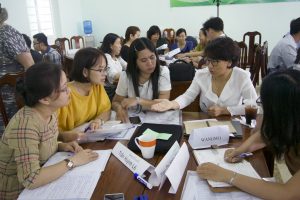 In its most recent workshop in July, Bending Bamboo began to visualize a concrete answer to this BIG question.
During 60 hours of workshop learning, participants were introduced to sustainable development information and stories from local and global perspectives, in English. Local and foreign experts were brought in to share their science with the participants, in English. As proficient English speakers already, the participants could sift through the content of the workshop. Tasked with reviewing and comparing sustainable development content from here and there, teachers also cultivated their critical thinking skills. For 18 participants, this was their second Bending Bamboo workshop. For these 18 participants, post-workshop evaluations showed that both their communicative English confidence and sustainable development knowledge confidence grew!
That's good news. Bending Bamboo participants are citizen-leaders in the Mekong Delta of Vietnam. They are knowledge bridges for their communities. These citizen-leaders are now critically interacting with local and global sustainable development discourse. Even better, these citizens are, inherently, strategically positioned to spread their knowledge. Bending Bamboo is currently leveraging this strategic positioning through the collaborative creation of the Bending Bamboo Teacher Text for grade 10-12 teachers in Vietnam. Next is the collaborative creation of a Bending Bamboo Student Text for Grades 10-12. With these two tools, participants and the Bending Bamboo team can tangibly impact a student and citizen's ability to access and meaningfully engage with sustainable development discourse.
As Bending Bamboo continues to answer, through data, its BIG question, it also eagerly and intentionally looks forward to answering the next question. It is a BIG BIG question. Can the integrated Bending Bamboo curriculum not only drive communicative English and sustainable development knowledge acquisition, but also drive sustainable development action?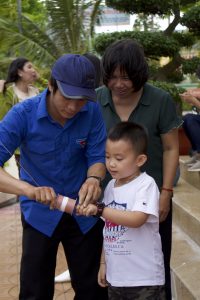 Now, just for fun, I shall end with two more questions. These are BIG BIG BIG questions to get you excited and thinking about the potential of creating and implementing, context-driven, quality education. Approximately 50% of Vietnam's population is under age 25[2]. What happens when Vietnamese youth are confident in integrated iC5 skills for English and sustainable development? What impact will this rising generation of Vietnamese citizens have on their provincial, national, ASEAN, and global communities?
[1] Interested in this statement? Read: Powell, Mike (2006). Which Knowledge? Whose Reality? An Overview of Knowledge Used in the Development Sector. Development in Practice, 16(6), 518-532.
[2] From the General Statistics Office of Vietnam
Development Series- Part IV: Advancing Human Development in Kerala, India
Summary from Just and Lasting Change  by Associate Professor, Noam Schimmel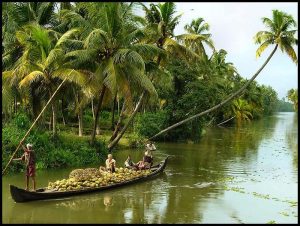 Human development that significantly advances quality of life does not have to be expensive.
It is often assumed that to make major advances in the quality of human well-being development efforts that address healthcare, education, food security, and the well-being of women and children are necessarily extremely resource intensive and therefore dependent on massive outlays of funding to advance human security.
But this is not the case.
Successful forms of development that have been transformative in positive ways and are well documented in development literature show that human well-being can be advanced with basic resources that can be found in most communities, including in countries that lack financial resources and are classified as low income.
Put simply, financial wealth is not a prerequisite for fundamental human development.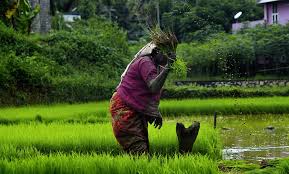 More significantly, trust, cooperative communal efforts to pool resources and expand them, careful and equitable planning, and support of local and national government coupled with local grassroots efforts are often sufficient to advance human development.
These advances lead to tangible improvements in life expectancy, improve quality of life and enhance health outcomes, promote the realization of the human rights of children and women and human rights more broadly, expand educational opportunities, and raise incomes and improve food security.
How is this possible and where has this been done? In Kerala, India.
Kerala, a region of South India, made huge advancements in human development without being dependent on external aid for enabling this transformation.
Kerala achieved the best health and education levels of development in India already by the 1960s, and continues to sustain them, while also maintaining the highest rate of political participation in India.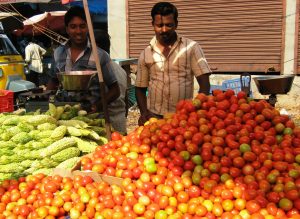 But, counterintuitively, it was also the poorest state in India when it had these dramatic health and education achievements.
In this seeming contradiction we can find vitally important lessons about advancing human development which may be counterintuitive, and for that reason merit attention.
Development research attributes Kerala's outstanding social achievements to several factors.
Daniel and Carl Taylor, pioneers of community development together with UNICEF, explain that these include political leadership that was largely genuinely interested in advancing the welfare of Kerala's residents and was not morally corrupt, a matrilineal tradition amongst many high caste Hindus in Kerala, a church that grew in adherents and advanced greater equity amongst its values and aspirations and promoted interreligious tolerance that also received the support of Hindus, and a progressive people's movement that advanced social reforms.
According to Taylor and Taylor, this social movement initially fought back against caste-based discrimination but continued beyond that, advancing public literacy and education, promoting land reform, and making scientific knowledge broadly available to the public which has also played a role in public advocacy for continued environmental conservation.
Momentum built on momentum in positive interlocking ways: advancing women's rights, promoting expanded educational opportunity, and providing enhance economic opportunities for trade that were open to a broad cross-section of the population all acted synergistically to advance human development.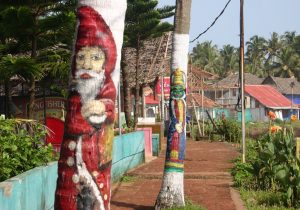 The high literacy rate, for example, has enabled the average Keralan to follow newspapers and hold political leadership accountable in democratic elections and in between elections.
The evidence Taylor and Taylor provide is substantive and significant: In 2001 while life expectancy was 74 years in Kerala it was 59 years in all of India. Literacy in Kerala amongst females was 87%, while it was only 39% in all of India. In 2011, Kerala was the only state in India in which there was no preference for male babies; in 1991 its gender ratio was 1,036 females to 1,000 males, compared with 927 females to 1,000 males for India as a whole.
Kerala's successes are impressive, sustained, and genuinely life altering for individuals and for society.
Taylor and Taylor note that economic wealth did eventually result from these substantial advances in human development in Kerala.
Today Kerala enjoys both high levels of social development and economic growth and greatly increased financial resources.
It is instructive to turn to Kerala's history to learn that opportunities abound even in places that are initially resource-poor.
Human development can be enabled and derive energy from largely indigenous sources.
To be sure, Kerala's model is unique to Kerala and its circumstances.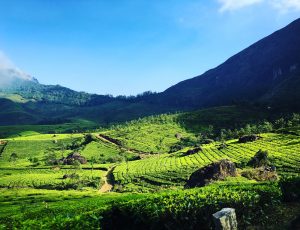 But undoubtedly, it has lessons for all countries seeking to advance human development and to the United States and other countries when conceptualizing and implementing development aid.
These lessons are encouraging in their affirmation of local capacity to advance positive social change from within that draws upon domestic human resources, some – but relatively moderate support from abroad, and the values and social policies that advance equity, social justice, and human emancipation which ultimately can unleash human development and well-being.