My name is Shane Palkovitz. I am a socioenvironmental specialist for the Songs of Adaptation research project at Future Generations University. The core investigations of this project focus on establishing an international baseline for biodiversity, while at the same time gathering knowledge from community members about human adaptation to climate change.
In March, I had the joy of traveling to Bolivia to work with local partners to establish a new research location. Our goal was to install four monitoring stations that will later serve as the beginning point for a larger research project.
We spent the first few days trekking through the jungle, looking for sites and gathering information before installing instrumentation. Pictured below, Alejo follows as other team members venture up a stream bed on El Chocolatal, an eco-resort.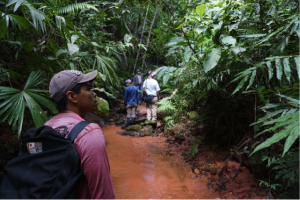 By Karen Milnes
Everybody knows about Vermont maple syrup, and it's time to put West Virginia on the map. With an estimated 0.04% (USDA—NASS) of the state's tappable maples in production, there's a lot of room for growth. And if this industry is doing anything, it is growing. And fast. According to a survey conducted by the Appalachian program at Future Generations, the number one component in helping our state's maple industry expand is the need for more sap from more taps.
With ongoing innovations in the sap to syrup process, a growing number of West Virginia producers are capable of processing a lot more sap than they can obtain. Backyard syrup making is not only a mountain tradition in these parts, it's a growing hobby as the farm and food movement sweeps across our nation. The Sweet Opportunites: Tapping West Virginia's Maple Resource project at Future Generations University aims to start networking sap collectors and syrup producers, setting up a "hub" model, already popular in more established maple syrup producing states. What's nice about this model is that it allows, for fairly minimal overhead, just about any landowner with maples on their property and a maple syrup producer nearby, to break into the industry with little risk. Oftentimes, sap collectors simply selling their raw sap are able to pay off the collection equipment in the first year. In a relatively short time, they can begin scaling up their operations and considering purchasing larger equipment to begin producing their own syrup.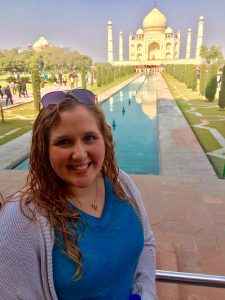 Our Learning Management Coordinator, Paula Smith, attended our field-based course in India in January. See what she has to say about the experience!
Why did you attend this field-based course on the Gandhian Method?
 I was thrilled to have the opportunity to attend the Gandhi course in India. I work with the Future Generations certificate program, so I've helped to plan and manage this course in years past, but it was such a rewarding experience to be there in person and see all the hard work come together for a great learning experience. It helped to give me insight on how to coordinate the student experience even better going forward.
By Mark Lambert
If you would've told me at this time last year that I, my wife, and our business partners would not only be producing, but delivering West Virginia Pure Maple Syrup across the state, I would've had to "lol." Literally. Not just in a text or an email.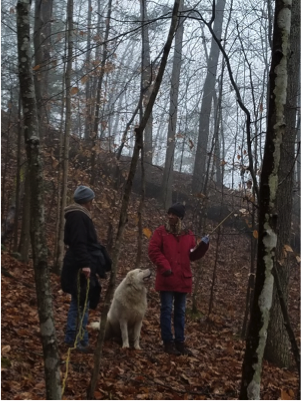 With the help of Future Generations Maple Sap Collecting and Syrup Processing certificate program, we've gone from wondering what our next step in the foodservice and transportation business world might be to learning how to collect sap on a commercial level. More than this, we've learned how to process that sap into syrup, label and bottle it for retail, and distribute not only our own finished product, but also other producers' syrup, to retailers all over the state of West Virginia.
Melene Kabadege is a Rwandan health professional and practitioner who attended Future Generations University as a member of the Class of 2007.  A nurse with a Bachelor's in Public Health and 16 years working for World Relief's health and nutrition programs, Melene was seeking a way to become a true Community Health specialist.
When she met Dr. Henry Perry in 2014, a member of the Future Generations faculty at the time, and learned about the University, she realized that her dreams of bringing positive and sustainable change to her community were more achievable than she thought. She credits her education here with building her knowledge and skills in community empowerment, social change, leadership, and how to leverage and lead community successes. This empowered her to bring about lasting healthy changes in her community.
Through the Master's program, Melene became more confident in her abilities as an agent of change and sustainable development. This inspired her to start Community Fountain Project, an NGO with the purpose of working hand-in-hand with the community to improve lives. Community Fountain Organization is currently implementing the INEZA Project, which aims to prevent under-nutrition and reduce stunting in the Kamonyi District of Rwanda.
A member of Future Generations Global Network, as are all Future Generations graduates, Melene succeeded in winning a small grant from the organization in 2017 with the purpose of implementing a Farmer Field and Learning School. Here farmers serve as teachers to their peers and join together in a farmers' cooperative. The Project areas of intervention were: improving farming techniques, improving nutrition in the first one thousand days of a child's life, and improving saving and learning skills. Melene's group worked with local leaders to ensure proper project monitoring.
After six month's of project implantation, the team noted several behavior changes taking place in the farmers' households. Notable outcomes include: couples participating in nutrition learning adopted better nutrition practices for pregnant women and children under age two, families have improved hygiene and feeding practices, men have taken on an increased role in child care, improved farming techniques have been taught and adopted, farmers have been mobilized towards the operation and maintenance of community works, erosion control plants have been put into place, and 25 saving and lending groups have been implemented that all remain operational.
At the end of the first year, the program has been considered successful and highly appreciated by community members and leaders alike. The project was implemented in 3 out of 12 Sectors of Kamonyi District. Fundraising activities are currently ongoing with the aim to extend the INEZA Project to cover all sectors of Kamonyi District and to become a learning center for community partnership in reducing stunting and improving the life of the vulnerable people.
Congratulations to Melene on her impressive work, and our thanks for sharing her story!
Make sure to follow the blog for more stories on the inspiring work being undertaken by our incredible alumni!