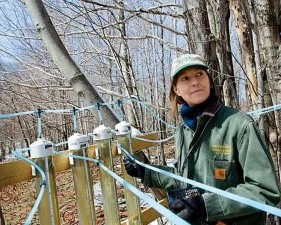 ABBY VAN DEN BERG
Research Associate Professor
Areas Of Expertise and/or Research
Plant physiological ecology and maple syrup chemistry
Education
Ph.D. 2007, University of Vermont
Research and/or Creative Works
Much of my research focuses on the ecophysiology of maple sugaring, including the effects of tapping and carbohydrate extraction on tree growth and health, the physiology of stem pressure and carbohydrates in xylem sap, and ultimately on helping to develop management practices and tapping guidelines to ensure the long-term sustainability of maple syrup production. Recently, my work expanded to include studying the physiology of stem pressure development in birch trees, and investigating sap yields and the potential profitability of adding birch syrup production to existing maple operations in the Northeastern US.
Another area of my research focuses on the chemical composition and flavor of maple syrup, particularly on gaining a better understanding of the compounds important to its flavor profile, and on how factors such as the environment, processing technologies, and management practices might affect its composition and flavor. Most recently, we have studied the impacts of modern sap processing technologies, such as reverse osmosis, on the composition and flavor of the maple syrup produced.
I also study the ecophysiology of anthocyanin pigments, particularly the potential effects of climate change on the development of the anthocyanin pigments in autumn senescing leaves that are responsible for the highly-prized display of autumn coloration in the mountains.
Publications
Van den Berg, A.K., Perkins, T.D., Isselhardt, M.L., Godshall, M.A. and Lloyd, S.W. 2012. Maple syrup production with sap concentrated to high levels by membrane separation: effects on syrup chemical composition and flavor. International Sugar Journal 114:572-576.
Van den Berg, A.K. 2012. Defining modern, sustainable tapping guidelines for maple syrup production. Northeastern States Research Cooperative, www.nsrcforest.org. 22p.
Van den Berg, A.K., Perkins, T.D., Isselhardt, M.L., Godshall, M.A. and Lloyd, S.W. 2011. Effects of producing maple syrup from concentrated and reconstituted sap of different sugar concentrations. International Sugar Journal 113:35-44.
Van den Berg, A.K., Perkins, T.D., Isselhardt, M.L., Godshall, M.A. and Lloyd, S.W. 2009. Air injection into concentrated maple sap during processing: impact on syrup composition and flavor. Journal of the Science of Food and Agriculture 89:1770-1774.
Van den Berg, A.K., Vogelmann, T.C. and Perkins, T.D. 2009. Anthocyanin influence on light absorption within juvenile and senescing sugar maple leaves – do anthocyanins function as photoprotective visible light screens? Functional Plant Biology 36:793-800.
Perkins, T.D. and van den Berg, A.K. 2009. Maple syrup – production, composition, chemistry, and sensory characteristics. In Advances in Food and Nutrition Research (Ed. S.L. Taylor), 56:103-144. Academic Press, San Diego, CA, USA.
Van den Berg, A.K., Perkins, T.D., Isselhardt, M.L., Godshall, M.A. and Lloyd, S.W. 2009. Effects of air injection during sap processing on maple syrup color, chemical composition and flavor volatiles. International Sugar Journal 111(1321):37-42.
Van den Berg, A.K. and Perkins, T.D. 2007. Contribution of anthocyanins to the antioxidant capacity of juvenile and senescing sugar maple (Acer saccharum) leaves. Functional Plant Biology 34:714-719.
Perkins, T.D., Morselli, M.F., van den Berg, A.K. and Wilmot, T.R. 2006. Maple chemistry and quality. In North American Maple Syrup Producers Manual (R.B. Heiligmann, M.R. Koelling, T.D. Perkins, Eds.) pp 294-300. The Ohio State University, Columbus, OH.
By Karen Milnes
Everybody knows about Vermont maple syrup, and it's time to put West Virginia on the map. With an estimated 0.04% (USDA—NASS) of the state's tappable maples in production, there's a lot of room for growth. And if this industry is doing anything, it is growing. And fast. According to a survey conducted by the Appalachian program at Future Generations, the number one component in helping our state's maple industry expand is the need for more sap from more taps.
With ongoing innovations in the sap to syrup process, a growing number of West Virginia producers are capable of processing a lot more sap than they can obtain. Backyard syrup making is not only a mountain tradition in these parts, it's a growing hobby as the farm and food movement sweeps across our nation. The Sweet Opportunites: Tapping West Virginia's Maple Resource project at Future Generations University aims to start networking sap collectors and syrup producers, setting up a "hub" model, already popular in more established maple syrup producing states. What's nice about this model is that it allows, for fairly minimal overhead, just about any landowner with maples on their property and a maple syrup producer nearby, to break into the industry with little risk. Oftentimes, sap collectors simply selling their raw sap are able to pay off the collection equipment in the first year. In a relatively short time, they can begin scaling up their operations and considering purchasing larger equipment to begin producing their own syrup.
By Mark Lambert
If you would've told me at this time last year that I, my wife, and our business partners would not only be producing, but delivering West Virginia Pure Maple Syrup across the state, I would've had to "lol." Literally. Not just in a text or an email.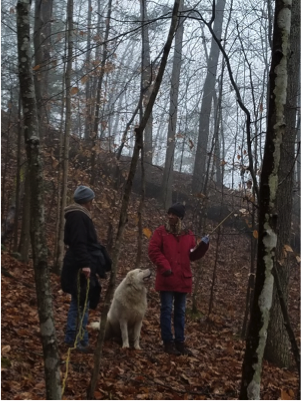 With the help of Future Generations Maple Sap Collecting and Syrup Processing certificate program, we've gone from wondering what our next step in the foodservice and transportation business world might be to learning how to collect sap on a commercial level. More than this, we've learned how to process that sap into syrup, label and bottle it for retail, and distribute not only our own finished product, but also other producers' syrup, to retailers all over the state of West Virginia.