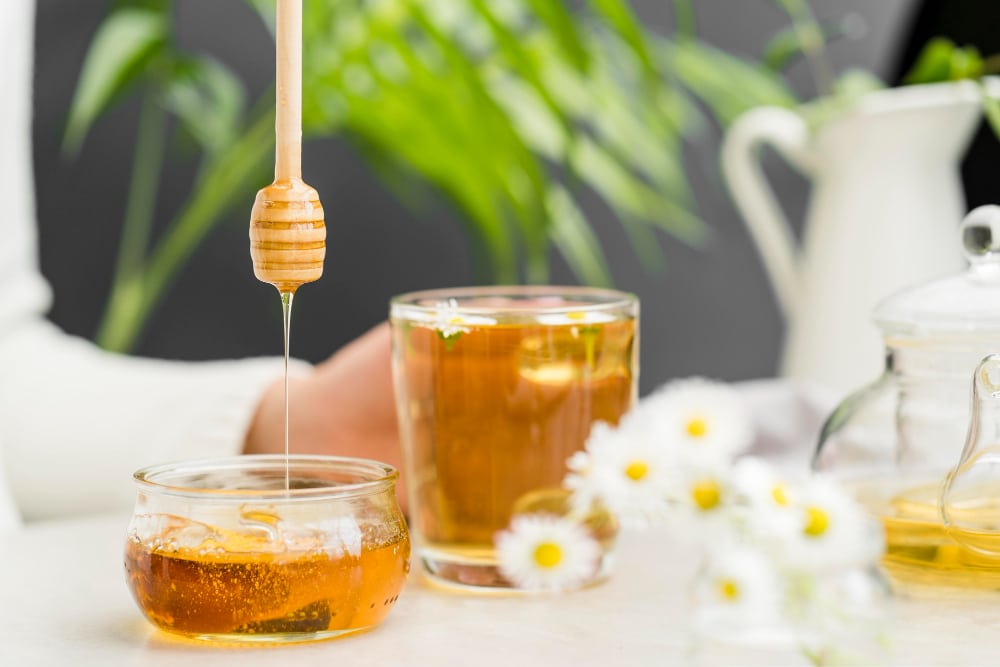 Maple syrup is a natural sweetener that is made from the sap of sugar maple trees. It has a similar consistency to honey, but contains less sugar and fructose than honey. It is often used as a flavouring agent or as a condiment for various dishes such as waffles, pancakes, oatmeal, porridge, or French toast. Let us discover more about maple syrup and determine if it is healthy or not.
Maple Syrup Nutritional Information
Although maple syrup is a natural sweetener, it is still high in sugar content. However, it does contain effective nutrients that are required for a healthy body and a healthy mind. According to the US Department of Agriculture (USDA), 100 grams of maple syrup contains the following nutrients.
Potassium: 212 mg
Calcium: 102 mg
Magnesium: 21 mg
Riboflavin: 1.27 mg
Manganese: 2.91 mg
Total sugar: 60.5 gm
Phosphorus: 2 mg
Choline: 1.6 mg
Zinc: 1.47 mg
Iron: 0.11 mg
Copper: 0.018 mg
Carbohydrates: 67 gm
Water: 32.4 gm
Calories: 260 Kcal
Sodium: 12 mg
Pantothenic Acid: 0.036 mg
Note: This is the nutritional value of maple syrup per 100 grams. It does not signify the amount of maple syrup you can consume. Consuming too much maple syrup can hamper blood sugar and insulin. The American Heart Association recommends consuming a dosage of 36 grams of maple syrup for men and 25 grams for women.
Varieties of Maple Syrup
Earlier, maple syrup was classified based on its taste and texture. In 2015, the USDA adopted a new grading system and differentiated maple syrup depending on its appearance and flavours. The variation in appearance and colour depends upon the time of the harvest. The maple syrup harvested early was lighter in taste and colour, while the maple syrup harvested at later stages was darker in appearance and more flavourful. The four distinctive colours can be classified as follows:
Golden (Subtle flavour with delicate taste)
Amber (Full of characteristic maple flavour with a rich taste)
Dark (More robust maple flavour ideal for all kinds of recipes)
Very Dark (Strong taste, which is perfect for cooking and baking)
The general rule is that the darker the grade and the colour of the maple syrup, the richer the flavour would be.
Maple Syrup Health Benefits
It is often said that maple syrup can be a healthier alternative, and it contains multiple nutrients that may help keep a body healthy. Let us discuss some of the health benefits associated with maple syrups to understand how you may benefit from maple syrup upon consumption.
Rich in Antioxidants

Maple syrup is a completely plant-based product with thousands of antioxidant compounds. These antioxidants can help protect the cells against free radicals. This helps regulate and prevent the growth of cancer cells and may further help reduce the risk of critical health conditions such as cardiovascular diseases, Alzheimer, and cataracts. Maple syrup is an excellent source of manganese, which may help regulate sugar levels, strengthen connective tissues, and help with the proper functioning of the nervous system. Manganese is also necessary for keeping the blood cells active and helps support the bones.

Maintains Heart Health

In terms of maple syrup health benefits, it has a lower glycemic index than sugar and will not lead to higher sugar levels. A sugar-laden diet can increase chronic inflammation and raise blood pressure levels which may raise the risk of cardiovascular diseases. Consuming maple syrup in limited quantities can help maintain an individual's heart health. It provides proper muscle function, maintains fluid balance, and may help control blood pressure. However, one should not consume syrup in extreme quantities as it still contains sugar and can impact blood sugar levels.

Promotes Nervous System

Maple syrup contains the Vitamin B2 compound, Riboflavin. The particular compound helps keep the skin healthy, promotes proper nervous system functioning, and helps promote good vision. You should consider consuming maple syrup in the morning to leverage these benefits.

Prevents Periodontitis

Periodontitis is a severe gum disease that can damage the bone and soft tissues. Maple syrup contains an antioxidant called Quebecol that has anti-inflammatory properties. It may help prevent the risk of this critical condition.

Healthy Digestion

Another significant benefit associated with maple syrup is that it helps promote healthy digestion. Besides this, polyphenols present in maple syrups may help keep cholesterol levels in control. Artificial sweeteners can lead to symptoms of indigestion and may lead to conditions such as gas, bloating, constipation, and cramping. Reducing the intake of refined sugar and artificial sweeteners can also help with leaky guts. Therefore, you must consider consuming small amounts of natural sweeteners rather than sugar and other artificial sweeteners.

Boosts Cognitive Functions

Maple syrup is enriched with copper and helps promote the growth of red blood cells and white blood cells. Regular intake of maple syrup can help reduce the risk of neurodegenerative conditions and may improve the overall functionality of the brain. However, if you are a diabetic, you must avoid consuming maple syrup for breakfast. You must avoid consuming large quantities of maple syrup as it tastes extremely sweet. Consider getting in touch with your medical healthcare provider to decide the amount of maple syrup you should intake.
Is It Safe for Diabetics to Have Maple Syrup?
More than 400 million people worldwide suffer from diabetes, and 37.3 million (11.3% of the US population) are suffering from the disease. WHO data shows that more than 1.5 million die every year because of diabetes. Individuals diagnosed with the disease should take extra precautions and take good care of their health. Extra sugary food can impact blood sugar levels. Therefore, one must start looking for alternatives. Maple syrup could be a healthier and better alternative to sugar or corn syrup.
It is a natural sweetener that is endowed with multiple minerals and nutrients. When you add maple syrup to your diet, your body will get the desired nutrients and antioxidants. Before replacing the sugar jar with maple syrup, you must consult your healthcare provider. Use it as a sweetener with pancakes, coffee cakes, bread rolls, and waffles or as toppings on food items such as ice creams, popcorn, yoghurts, and cereals.
Possible Side Effects of Maple Syrup
Maple syrup is a healthier alternative, but consuming it in excess can have an adverse effect on an individual's health. Here are some of the possible side effects and potential risks it may lead to.
Consuming it in excess may increase calorie intake and manganese levels.
It may increase the risk of chronic diseases.
If consumed maple syrup in excess quantities, people diagnosed with diabetes may experience a rise in blood sugar and insulin levels. It will be ideal to consult a medical professional before replacing sugar with maple syrup.
The high sugar content can also lead to tooth decay.
You should consume maple syrup, but do not forget the natural sweetness of fruits. Add healthy fruits to your diet in order to maintain sugar levels.
Is it Wrong to Consume Maple Syrup Every Day?
Maple syrup is a natural sweetener with no fibres attached to it. As mentioned above, consuming too much maple syrup can cause adverse effects and may increase the insulin and sugar levels in the blood. One should follow the recommended dosage and amount of maple syrups that can be consumed. One may even get in touch with their healthcare provider to understand the requisite amount of maple syrup they can consume.
How to Identify Real Maple Syrup?
Many people opt for maple syrup because it is nutritious, healthier, and delicious. However, many people sell pancake syrups as maple syrups, and some even sell filtrated maple syrup. One should be aware that genuine maple syrup is made from sap that is boiled down until it reaches the desired consistency. The government and food authorities have even released strict regulations on what can be printed on the label. Here are specific steps one can take to identify the difference between real and fake maple syrup.
Read the instructions on the label.
Find out more about the authenticity of the brand and the ingredients used.
Maple syrup is runnier and pours easily, while pancake syrup is thick and sticky.
Pure maple syrup costs more, whereas pancake syrup may be available at lower prices.
Maple syrup comes in a variety of grades and shades. On the other hand, pancake syrup is only available in one colour.
Pure maple syrup does not contain any preservatives and may have a shorter shelf life.
Learn Maple Syrup Production
The process of maple syrup production can be complex and labour-intensive. Beginners or novice maple syrup makers should consider opting for a course in maple syrup production to learn more about the process. Future Generations University offers a dedicated study in the field of maple syrup production. The course combines online virtual and field practice sessions, allowing the sugarmakers to implement the learnings in real life.
The participants will also receive a one-year membership in the West Virginia Maple Syrup Producers Association after the completion of the course. The training sessions are conducted in small groups of a maximum of eight participants to ensure every participant gets equal attention. The syllabus covers all the topics and aspects related to the science of maple syrup production. Consider enrolling for the course with Future Generations University if you want to explore more about maple syrup production.
Frequently Asked Questions
Forty gallons of sap is used to prepare one gallon of maple syrup. It can certainly be expensive, and one should buy it only when needed or in limited quantities. Here, we have answered some of the frequently asked questions related to maple syrup that may solve your queries.
Is maple syrup better than sugar?
Maple syrup is less processed and has a lower glycemic index than that sugar. Moreover, it has various antioxidants and minerals, which make it a healthier choice and a better option than sugar.
Is maple syrup healthier than honey?
Both maple syrup and honey are healthier in terms of their antioxidants and nutritional values. While honey is slightly rich in calories, carbohydrates, and sugar content, maple syrup offers micronutrients such as iron, calcium, potassium, zinc and makes up for the minerals. The choice of the product should depend on your health concerns and body requirements.
Is maple syrup in coffee good?
Maple syrup is one of the tastiest and healthiest sweeteners that one can consider. Adding maple syrup to coffee could be a natural way to enhance the flavours of the coffee and add sweetness to it. However, you should avoid adding maple syrup in excessive amounts as it could impact your health.
Is coconut sugar better than maple syrup?
The glycemic index and calorie content of coconut sugar are less than that of maple syrup. However, maple syrup contains antioxidants, minerals, and nutrients that are required for a healthy body. Compared to coconut sugar, maple syrup stands to be the winner because of the health benefits related to it.
Do I have to refrigerate maple syrup?
Maple syrup is a natural sweetener with no added preservatives or substances. It can spoil or grow mould quickly. Hence, it is suggested to store the syrup in the refrigerator. You must even consider consuming it quickly. Avoid buying a bigger pack of maple syrup if you do not intend on finishing it soon.
What happens if I forget to refrigerate the maple syrup?
Maple syrup can grow mould, if kept outside for a longer time or duration. After opening the bottle, you must consider putting the bottle in the refrigerator. Check the label for more instructions. If the maple syrup is concentrated or not pure, you can also consider keeping the syrup outside the refrigerator for some time.
Which grade of maple syrup is best?
The darker the colour of the maple syrup, the stronger the flavour would be. It is even said that the darker versions of maple syrup may provide more beneficial antioxidants in comparison to the lighter ones. Therefore, you should check the colour and appearance of maple syrup to decide what is good for you. Choose the variety or grade of maple syrup, depending on your body's requirements and needs. You may even consult a healthcare professional to figure out this and choose the suitable quality of maple syrup that may suit your needs and health requirements.
Maple syrup is indeed a healthier alternative which is vegan and delicious in taste. Just like any other food item, it is suggested that you do not overdose on the amount of maple syrup in your diet. Follow the recommended dosage and see an improvement in your health.