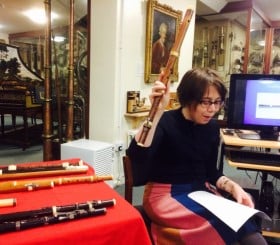 ELIZABETH FORD
Executive Assistant to the President
Education
PhD, University of Glasgow
MM, Peabody Conservatory of the Johns Hopkins University
BA, West Virginia Wesleyan College
Certificate in Irish studies, Augusta Institute, Davis & Elkins College
Additional studies: Marshall University, West Virginia University
Biography
Elizabeth Ford dropped out of law school to pursue a PhD in Scottish music at the University of Glasgow. This research won the National Flute Association's doctoral research award. Her main research interests relate to the history and development of the flute, historical pedagogy, and nature and question of Scottish identity through material culture. While at Glasgow University Elizabeth was part of the team that established a Royal Society of Edinburgh-funded interdisciplinary research network on 18th-century arts education. She was the 2018-2019 Daiches-Manning Memorial Fellow in 18th-century Scottish Studies, Institute for Advanced Study in the Humanities, University of Edinburgh, where she recreated the lost venue of Edinburgh's 'Musick Club,' Steil's Cross Keys Tavern, in virtual reality.
Elizabeth edition of William McGibbon's complete sonatas is published by A-R Editions, representing a recreation and reassembly of a significant missing chunk of 18th-century Scottish repertoire, and her monograph, The Flute in Scotland from the Sixteenth to the Eighteenth Century, is part of the Studies in the History and Culture of Scotland Series from Peter Lang Press and has been called 'required reading.' She is the lead copy editor of the Aphra Behn Interactive Journal for Women and the Arts, 1640-1830. Elizabeth has been awarded several fellowships, including the Martha Goldsworthy Arnold Fellowship at the Riemenschneider Bach Institute, and the ASECS-Burney Centre Fellowship at McGill University. She is co-founder and publisher of Blackwater Press, an international independent small press based in Charleston, WV.
When not pouring over manuscripts or being escorted from libraries, Elizabeth can be found taking pointlessly long walks in search of legendary trees, reading a long book with small print and few pictures, or playing with her kitten, Flòraidh.