From January 10th-22nd of this year, Professor Daniel C. Taylor guided several participants through a unique learning experience in India. Here, they learned about Gandhi's powerful, non-violent method of social change and how they could apply it to their own work while visiting sites that played key roles in the Mahatma's own life and journey to becoming a leader for change. One of the participants in this certificate course, Tonny Muteesasira of Uganda, shares his impressions of the course…
---
"Without action, you aren't going anywhere." –Mahatma Gandhi
Working with Professor Taylor, a renowned scholar and practitioner of social change, we explored Gandhi's approach for motivating others to come together to affect positive social change and Taylor's theory of SEED-SCALE.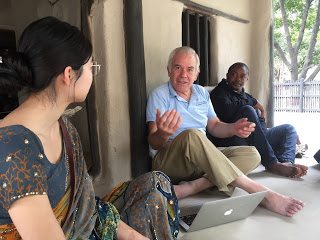 Learning on the front porch of Gandhi's Sevagram Ashram

From this study tour to India, I came to an understanding that, if we take action and embrace equal values among ourselves in the community, the idea of "Ahimsa," explained by Gandhiji as calling for equality and respect of life, would mean a lot for the generations to come and all stakeholders in any given community. In his push for self-rule, he developed this concept of Swaraj, where he urged all Indian, Muslims and Hindus alike, to take action as one people. This was necessary if they were to achieve the idea of self-rule as a country.

The concept of Satyagraha was pivotal to designate a determined but nonviolent resistance to evil. Taking action does not mean getting violent and the idea of Satyagraha can easily apply in our development work that we do every day. At one point, Gandhi quoted, "An eye for an eye, makes the whole world blind." This was true then and even now because if we are to respect life and encourage equality on the basis that we all have equal values, we have to embrace the concept of Satyagraha that calls for non-violence.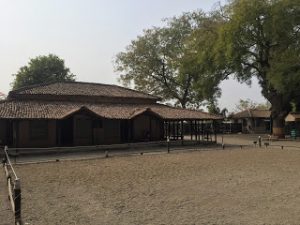 The grounds of the Sevagram Ashram, where Gandhi went to rest and teach.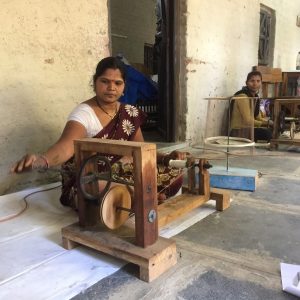 Spinners at ashram making khadi, a homespun fabric that became symbolic of India's freedom movement.

One of the key takeaways is truth (Satya). To Gandhi, "Nothing is or exists in reality except Truth." Truth is a core principle in all that we practice and is the only way to gain respect among all stakeholders in communities. Truth is an energizing force that can ignite action. Strong leadership is influenced by practicing truth. As we work with communities/cooperatives in truth, we must actively listen to their concerns, find out their aspirations – their common intentions, respects, and most importantly, build from it.
If practitioners/development experts build from truth and successes rather than impose their views on the local population, then projects become successful and grow to scale. Working in truth requires participatory evidence in which the community works collaboratively to gather evidence, build consensus and make informed decisions about actions. Beyond that, it requires gathering evidence as the project moves forward.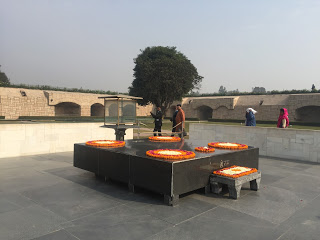 The site of Gandhi's cremation
We explored the importance of communication within communities, since communities involve groups that have something in common and always intend to act together. As development experts try to push agendas through, they have to focus on identifying something that people share in common and drive them to act together for a common goal. Therefore, to be able to build on the successes of the community, all development experts have to be able to answer questions such as: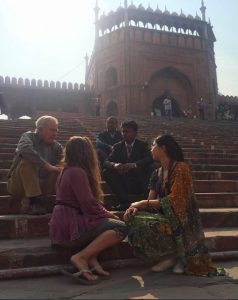 Participants discussing how the events of the past are still affecting the present on the steps of the Jama Masjid
1. What is the message they are trying to carry and to whom are these messages are being addressed?
2. Has the message being carried been understood?
3. Has the message connected to action?
4. How can the message get delivered.
As for any development practitioner, the focus on the respect of the values of the communities enhances projects' performances. Community values like culture, communication, health, religious, and political values have to be respected so as to cultivate a sense of community and belonging.
I was so impressed with all these wonderful messages to take back to my organization. At Africa Development Promise, we continuously evolve and practice truth. We work closely with the women's cooperatives building on what they already know and supporting their actions to be able to achieve economic independence. If we decided not to take action, there would be minimal/no women empowerment in the areas we have reached in the rural district of Wakiso, Uganda.
We always need to scratch the itching issues and not perform on dictated moves by governments or donors. There we will be able to put a strong and positive hand to contribute to the sustainable development goals.