For the Central Appalachians, including our home state of West Virginia, the future needs to look very different from the past. The region's historic reliance on the coal industry to support family livelihoods, and to support government services, no longer works.
The future demands a new economic model, but where do you get one? Professor Mike Rechlin weighs in on an innovative way he's led Future Generations in approaching this task…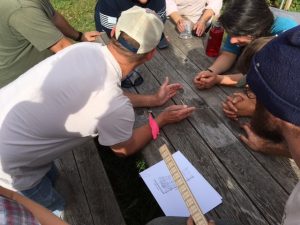 Class members on the first day of the Sap Collection Residential
You can start by looking at what works, and
build on that success
.
You can replace the energy found in coal with the
human energy
to innovate.
You can develop
partnerships
between not-for-profits, government and people eager to see change.
If that sounds like part of the mantra of
Future
Generations
University; well, that's because it is.
And maybe that's why West Virginia's newest University just might be in the "sweet spot" when it comes to the future and the Appalachians.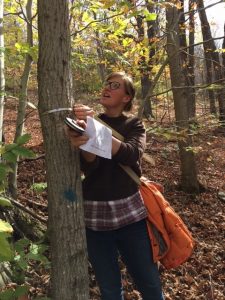 Participant Karen Milnes measuring trees
with a diameter tape
When Future Generations Graduate School Dean Mike Rechlin retired from his duties on North Mountain, he planned on moving on up to his home in New York State.

Instead he moved his activity up to the backside of Spruce Knob to help establish the Dry Fork Maple Works.

Seeing the potential for growth of a new industry in the State, one that sustainably used a renewable forest resource, Mike help organize the West Virginia Maple Syrup Producers Association (WVMSPA).

Fast forward 2 years, and applying that mantra of build on success, rely on human energy, and develop partnerships, he is now helping the West Virginia Department of Agriculture (WVDA) to develop this growing sector of the State's economy.

It's also why

Future

Generations

University is partnering with the WVDA and it's Warriors and Veterans in Agriculture program to offer a course titled Maple Sap Collection and Syrup Processing.
This past September, Mike crisscrossed the State offering seven Maple Syrup Production seminars to over 75 interested participants.

Through partnerships developed by
Future
Generations
University
with the WVDA, the West Virginia Department of Veterans Assistance, the WVMSPA, and West Virginia University, those interested in moving into this industry are now enrolled in the
Maple Sap Collection and Syrup Processing
Course.
Completing this course will require participants to enter into a mentoring relationship with a syrup producer already
successfully
established within the State.
The seminars, the course, and the WVMSPA are all driven by a palpable sense of
human energy
eager to see change.
As course participant and army veteran Jeremy Ray said last weekend at the courses first residential, "nothing is happening in Nicholas County, where I live (and whose property butts up against a closed coal mine). I just want to get something going, to make it better."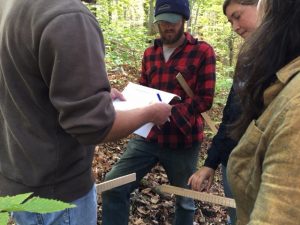 Crew members recording plot data
When Mike Rechlin told the University's Director of Research, Mieke Schleiff,

about this growing relationship between

Future

Generations

and this maple syrup business, he let her know that the focus of his course was on tree biology, evaporator chemistry, ecology, and math, not SEED/SCALE.

Fair enough, but stepping back a bit to look at the big picture, it kind of looks like it is.

And, it just might be that "sweet spot" where
Future
Generations
University
can apply its unique perspective to the future of the Appalachians.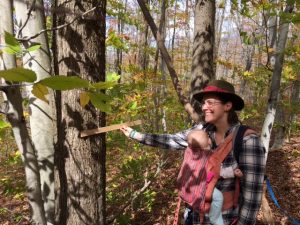 Alisha and Baby Oriana making use of a Biltmore Stick
____________________________________________________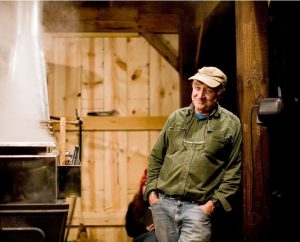 Mike Rechlin has practiced sustainable foresty and protected areas management in the United States, Nepal, India, and Tibet for thirty years. He has extensive teaching experience and has designed educational programs for many international groups visiting the Adirondack Park of New York State. Presently retired, Mike has held academic appointments at Principia College, Paul Smith's College, and the Yale School of Forestry and Environmental Studies. He served as the dean of Future Generations Graduate School from 2010 to 2013. He presently resides, and makes maple syrup, in Franklin, WV.