Today on the blog, we hear from Meaghan Gruber, an alumna of the Class of 2014. Meaghan discusses how her Future Generations education has aided her work in her field and how it still comes into play in her current role with Cacao&Terra Nicaragua. Meaghan has also been the recipient of two Alumni Collaboration Grants from the Global Network. Read on to find out more!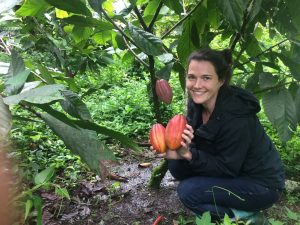 Meaghan credits her education with Future Generations University for challenging her to think outside the box in her work. When she started her Master's, she was working with an NGO that worked towards development across several different sectors. Future Generations' inherently multi-sectoral approach allowed her to apply what she was learning directly to her work, team, and community, thereby enhancing her success in her work and enabling her team to more effectively evaluate their next steps. The most beneficial aspect of the program for her was the diversity of her fellow Master's students. She says that this led to thinking about new ideas in different ways, creatively collaborating across the world, and understanding similarities in challenges and how those challenges may be addressed.

Most importantly, Meaghan says, "They taught me new ways to see the world—for that, I am forever indebted."
She again applied this basis to her action research Practicum, which looked at community voice within a proposed health clinic plan in a rural community. Applying her knowledge of the three-way partnership, she provided invaluable research on behalf of her NGO, which was then able to work successfully with the community, other NGOs, Ministry of Health, and government to launch the project. Meaghan says that it's given her a great sense of pride to know that her practicum work wasn't just another proposed development project pushed onto a community, but rather a collaborative effort based on community energy.
Most recently, she's been working on a social enterprise called Cacao&Terra Nicaragua that focuses on reforestation via the planting of cacao, as well as produces value-added fine-quality chocolate. This is completed in partnership with communities, cooperatives, and government. Says Meaghan, "I'm constantly inspired by the organization, determination, and creativity that I witness on a daily basis in my work."
Of SEED-SCALE, Meaghan makes frequent use in her work, as she feels that many parts of this theory are essential for positive and sustainable community change. In her work, the principles of working with human energy, building from success, and using three-way partnerships are always used. Meaghan had observed that often NGOs or individuals work alone in communities or without fully involving the community or other actors, leading to failed projects. She asserts that working collaboratively with all actors represented ensures a much more sustainable future for the projects and the communities that make use of this approach.
Building from success and learning from the successes of others has enabled Meaghan to take informed next steps that have brought her work to SCALE. From having applied SEED-SCALE in their work with cacao plantations and chocolate making, her team is now working in collaboration with new associations and co-operatives that are working together in chocolate-making and sustainable livelihood alternatives.
One of the most rewarding parts of this process for Meaghan has been seeing how her work has sparked behavior change using SEED-SCALE. By focusing on community change via the planting of cacao and chocolate making in the northern region of Nicaragua and with the award of a Future Generations Alumni Collaboration Grant, Meaghan's work has not only aided in reforestation efforts, but has also evolved into making value-added products with cacao. The progression towards chocolate-making has given Meaghan the opportunity to work closely with young people from Waslala, Nicaragua, as well as different actors in the area. Meaghan's position of being from the United States but having been settled in Nicaragua for the last 10 years has also allowed her to aid the company in forging connections, improving communications, and product distribution, thereby further bringing this project to SCALE.
_______________________________________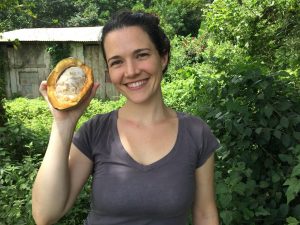 Meaghan was first drawn to community change work when she travelled to the northern mountains of Nicaragua in the early 2000s. It was here that she began to question how lives could improve in areas such as the one she was visiting; areas that are poor in resources, but infinitely rich in the quality of its people and their collective capabilities.

After dedicating her university years to studying the socio-economic and historical contexts that had given rise to the conditions present in rural Nicaragua, she returned and began working with NGOs that were focused on water access, school building, scholarship programs, and alternative income programs. Throughout, she remained the most inspired by the people she encountered in her work and the communities that were working together to improve life for their children. This prompted her to begin her journey with Future Generations. We're proud to have such an exemplary individual among our alumni and continue to be inspired by her scaling up of her work.