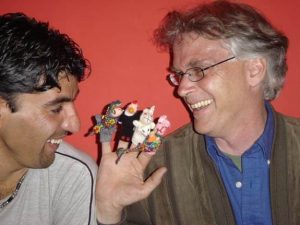 DAN WESSNER
Professor & Director, Bending Bamboo Project
Education
​Ph.D. University of Denver Korbel School of International Studies
​J.D. University of Virginia School of Law
​M.Div. Princeton Theological Seminary
B.A. Stanford University
Biography
He is developing, modeling, testing, and marketing integrative education platforms for at-risk and affluent communities to collaborate on the SDGs per local contexts and within planetary boundaries. His lead on the Future Generations University accreditation process addresses the specific and universal learning of globally dispersed student and alumni bodies. He works among universities and nonprofits to find lasting solutions to vexing development challenges, and thus helped launch the Posner Center for International Development- a collaborative space of sixty international nonprofits headquartered in Denver, Colorado. He has served on several boards of organizations committed to education and best development practices.
Publications
"Learning beyond the Light Bulb among Least Developed Countries based on a Sustainable PV Solar
Utility Model." New Brunswick, NJ: Global Health Technology Conference Proceedings, Institute of Electrical and Electronics Engineers (2014).
"Development and Peacebuilding." International Encyclopedia of Peace. New York: Oxford University Press (2009).
"Vietnam: Post-Conflict Peacebuilding." International Encyclopedia of Peace. New York: Oxford University Press (2009).
"Addressing Fundamentalism by Legal and Spiritual Means." Human Rights & Human Welfare 57-76 (2003) (http://www.du.edu/gsis/hrhw/volumes/2003/wessner-2003.pdf).
"Pacifist Pedagogy and the Bush Doctrine." In Teaching Peace: Nonviolence and the Liberal Arts, eds. J. Denny Weaver and Gerald Biesecker-Mast. Lanham, MD: Rowman & Littlefield, 2003, pp. 147-63.
Review Essay. Perry Bush, "Two Kingdoms, Two Loyalties: Mennonite Pacifism in Modern America, and Glen Stassen, ed. Just Peacemaking: Ten Practices for Abolishing War." The Conrad Grebel Review 18:2 (Spring 2000), pp. 95-98.
"From Judge to Participant: The United States as Champion of Human Rights." In Debating Human Rights, ed. Peter Van Ness. London: Routledge, 1999, pp. 255-77. Published earlier in Critical Asian Studies 28:2 (1996), pp. 29-45.
Monkey King & Sage: Hanoi's Politics of Syncretism. Doctoral dissertation in International Studies (archived online, June 2001). Graduate School of International Studies, University of Denver.
"Floating to the Unknown." Global Justice 1:2 (Summer 1995), pp. 39-47.
"Denver Community Development through Edgar's Eyes." Global Justice 4:2 (Winter 1994), pp. 36-39.
"Vietnam Comes Full Circle." Areopagus (Hong Kong) 7:1 (1994).
"Outer Continental Shelf Revenue Sharing for Coastal States." Virginia Journal of Natural Resources Law 3:131 (1983), pp. 131-61.