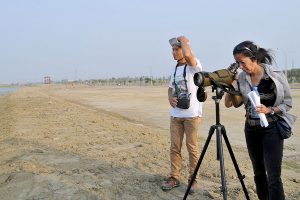 SUSHILA NEPALI
Assistant Professor
Education
Ph.D. Tribhuvan University
M.A. Norwegian University of Life Sciences
B.A. Tribhuvan University
Biography
Ms. Sushila Chatterjee Nepali is a Kathmandu resident, having a forestry background in community-based natural resource management. She completed her Ph.D. in 2012 from the Institute of Forestry (IOF) Pokhara, Nepal, looking at the "Perception of change and impact of conflict on local livelihoods in the buffer zone and Khata corridor, Bardia, Nepal." She has worked for more than 25 years as a community development specialist in natural resource and biodiversity, conducting research and evaluation in health and gender issues, and conservation.
In the field of evaluation, she has conducted evaluation using OECD DAC criteria and Impact Evaluation guidelines developed by World Bank using RCT tools. For the past 19 years, she has worked as a consultant as a monitoring and evaluation team leader, facilitating management effectiveness evaluation of Protected Areas, and developed plans and management information systems for WWF and other government agencies. She has been an active team member as a gender and livelihoods expert in developing the National Biodiversity Action Plan 2014 and National Strategic Framework for Nature Conservation with several research programs.
Today, she is involved as a consultant, doing research work, and teaches as a visiting faculty member for Agriculture and Forestry University, IOF, Kathmandu Forestry College and Department of Conflict, Peace, and Development Studies in Protected Area Management, and Conflict Management in NRM, and teaches courses on Peacebuilding and Women Empowerment for Future Generations University. Having extensive field knowledge and traveling to more than 65 districts of Nepal, she has been encouraged to contribute to policy research and field implementation of programs in all levels of NRM and development sectors. She has been recognized internationally by WWF US 2001 Women in Conservation and WI HER LLC Salwa Harb Award 2021 for her contributions to conservation, women empowerment, and gender promotion.
Publications
Thematic report on gender equality and livelihoods for national conservation framework and strategy prepared by IUCN for npc, Kathmandu (finalized) IUCN or National Planning Commission website
Thematic report on Gender for national biodiversity strategic plan 2014, MOFSC Kathamndu. MOFSC website
Change in the governance practices: A case conflict effects in Bardia's Conservation Efforts. Paper submitted and presented at International Symposium on Mountain Resource Management in a Changing Environment May 28-June 1, 2012 Conference. Park Village Resort. Kathmandu. KU Website
Assessing the causes of conflict and its affects on livelihoods: A study from Bardia National Park and Khata Corridor, Nepal. Bankojankari, July 2010. Kathamndu
Gender Equity and Social Inclusion review document for Ministry of Local Development. June 2010 Kathmandu